If you need to reach customer service, please call 1-800-255-0711 or use the form on our contact page.
NOW EARN POINTS ON EVERYDAY PURCHASES AT STRIPES
Drink and snack to the max while saving big and earning points on everything you buy at Stripes Stores.
DOWNLOAD
Download the 7Rewards App. It's free, easy, and fast.
REGISTER
After installing the app, register so you can start to save!
EARN POINTS
Scan the 7-Eleven app in store with each purchase.
ROLL IN REWARDS
Redeem your points for a ton of tasty goodness.
7 REASONS TO JOIN REWARDS
Points earned on most everyday purchases
Extra savings with offers only available through 7Rewards
Earn points faster with purchase of select snacks, drink and other store items
Redeem points sooner with bonus point offers
Redeem points quickly and easily with in-app coupons
Redeem points for free food and drinks
Become instantly popular with strangers and get that raise you've been asking for.*
*Results may vary.
HOW TO REDEEM
Sign in to 7Rewards.com or the 7-Eleven app
Click "Choose reward" button
Select your reward
Click "redeem" button
Scan your customer barcode at checkout
Program available only to members of the 7Rewards© Program and available only at participating 7-Eleven© stores, excluding Hawaii. Go to the 7-Eleven Mobile App for additional terms and conditions of 7Rewards. Points exclude services, fuel, and age-restricted items including tobacco, lottery, and alcohol.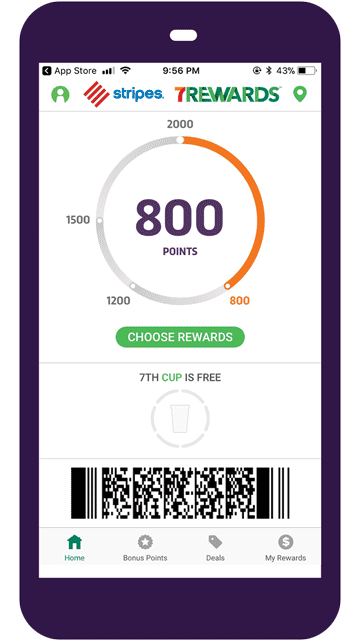 FREQUENTLY ASKED QUESTIONS
Need Help?
Call 1-800-255-0711 Monday through Friday from 7am to 11pm CST and a Customer Relations representative will be available to assist you or email us at 7-11custrel@7-11.com.