If you need to reach customer service, please call 1-800-255-0711 or use the form on our contact page.
Stripes Stores
Community News
Stripes® Stores And Laredo Taco Company® Exceed $1 Million Fundraising Goal in Record-Breaking Campaign for Children's Miracle Network Hospitals
Funds Will Benefit 13 Children's Hospitals in Three States
(CORPUS CHRISTI, TX) June 2, 2014 — Stripes® and Laredo Taco Company® are proud of their customers and employees for surpassing their goal of raising $1 million for Children's Miracle Network Hospitals during their 10th annual Miracle Balloon icon campaign from March 31 to April 27. Stripes Stores raised a total of $1,177,804.27 in more than 580 store locations, which will flow directly to 13 member children's hospitals throughout Texas, Oklahoma and New Mexico.
"What an honor it is to present more than $1.1 million to Children's Miracle Network Hospitals," said Sam L. Susser, Chairman of the Board of Directors and Chief Executive Officer of Susser Holdings Corporation (parent company of Stripes LLC), at a check presentation ceremony to representatives from CMNH.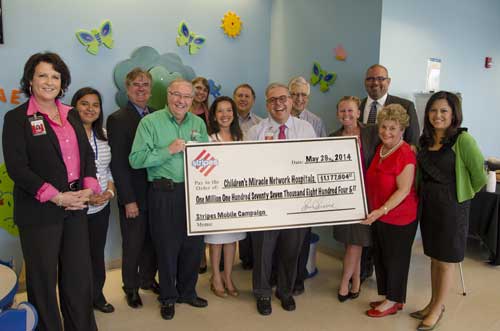 "Together, with the support of our generous customers and our passionate team members, we surpassed our highest expectations. The grand total of this campaign will impact 13 different pediatric hospitals in our Stripes communities and they will be able to offer more hope and healing for many children. They are the true Miracle Makers."
"We are so thankful for Stripes Convenience Stores for another record-breaking fundraising year," said John Lauck, president and CEO of Children's Miracle Network Hospitals. "Funds generated through these annual campaigns provide life-saving care and needed treatments for 13 of our member children's hospitals. These donations are vital for hospitals to continue to provide the best possible medical care for sick and injured kids."