If you need to reach customer service, please call 1-800-255-0711 or use the form on our contact page.
Stripes Stores
Community News
On May 21, 2015 members of the Stripes employee fund giving committee donated $1,000 to representatives from the Texas State Aquarium. The funds donated will benefit the Texas State Aquarium Recovery Fund.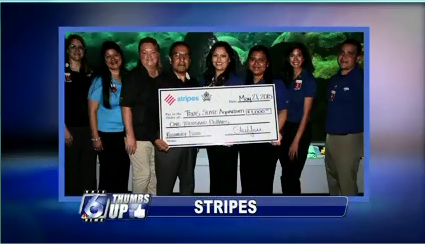 Last month, the Texas State Aquarium experienced one of the most significant losses of marine life in its 25-year history. A total of 389 fish, including a number of iconic species such as a male sand tiger shark, were lost during a standard medical treatment to eradicate a parasite.
The Aquarium has received many requests asking how to help including a new initiative, the Texas State Aquarium Recovery Fund, which provides the Coastal Bend community and friends, like Stripes team members, the opportunity to help rebuild the exhibit. Stripes Stores also held a car-wash fundraiser on May 15, 2015 for the Texas State Aquarium Recovery Fund.