If you need to reach customer service, please call 1-800-255-0711 or use the form on our contact page.
Stripes Stores
Community News
Stripes® Convenience Stores Exceed More Than $1.3 Million In Fundraising Campaign For MD Anderson Children's Cancer Hospital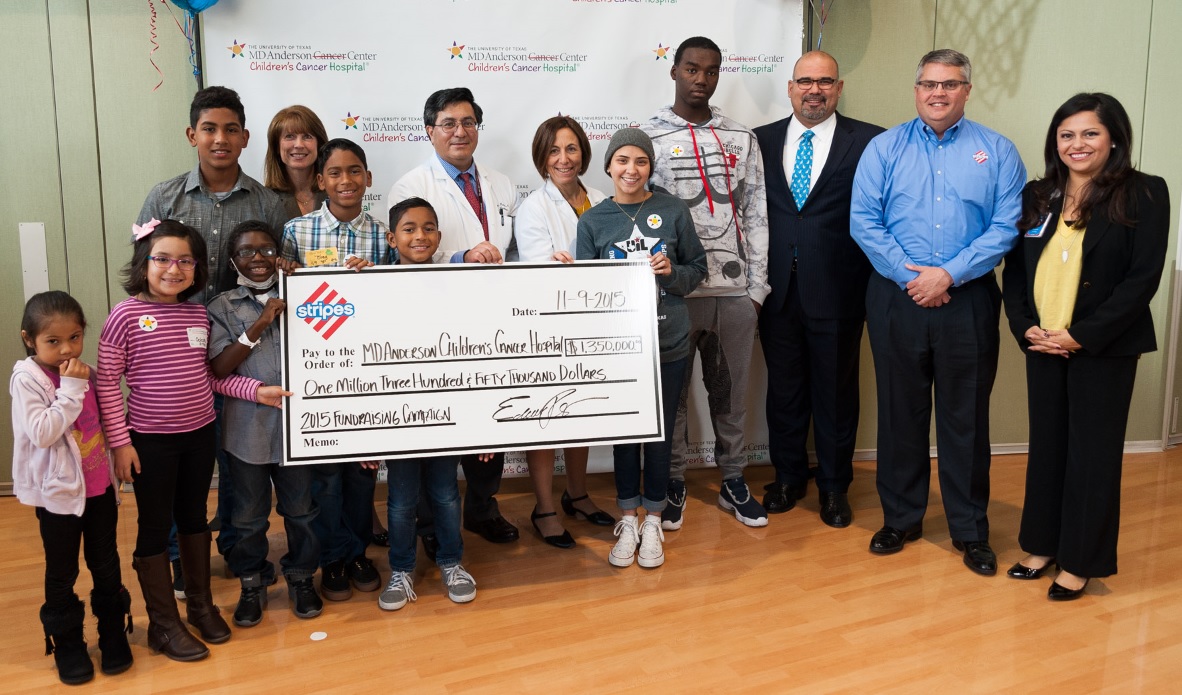 (Corpus Christi, Texas) November 10, 2015 - Stripes® Stores is proud of its customers and team members for raising more than $1.35 million for The University of Texas MD Anderson Children's Cancer Hospital as part of the "Stripes Celebrates Tomorrows" campaign. The campaign launched in September to commemorate Pediatric Cancer Awareness Month and ran through mid-October raising more than $1,350,000 from more than 700 store locations, surpassing its goal of $1,000,000.
Stripes employees asked customers to make every dollar count by purchasing a $1 paper pinup to help local kids with cancer. Each customer donation was rewarded with a free 12-ounce Slush Monkey® and a buy-one-get-one free Smokin' Barrel® snack promotion.
In addition, external philanthropists matched all donations dollar for dollar, doubling the Stripes Celebrates Tomorrows donation for a final contribution of more than $2.7 Million to MD Anderson Children's Cancer Hospital.
"On behalf of Stripes, what an honor it is to present $1,350,000 to MD Anderson Children's Cancer Hospital," said Stripes Convenience Stores Vice President of Marketing, Eduardo Pereda, at a check presentation ceremony held at MD Anderson. "Together, with the support of our generous customers and our passionate Stripes team members, we surpassed our highest expectations. These funds will directly benefit MD Anderson's Children's Cancer Hospital and will help them to offer more hope and healing for many children."
MD Anderson will direct 100 percent of donations from the "Stripes Celebrates Tomorrows" campaign toward research for improved cancer treatments that will help save lives everywhere. Funds will also go to MD Anderson Children's Cancer Hospital's Pediatric Education and Creative Arts Program, one of only two privately accredited K-12 hospital schools in the nation.
"Once again, Stripes employees and customers have gone above and beyond to help fund lifesaving cancer research that will impact countless children for generations to come," said Ronald A. DePinho, M.D., President of MD Anderson. "We are grateful for the tremendous results of this campaign and for the community's strong support of our researchers and clinicians who are working tirelessly to end cancer. Together, we are Making Cancer History."
The company also launched an internal employee fundraising campaign. The employees hosted baked sales and other fundraising events throughout the company's regional offices, and the totals are reflected in the overall donation to MD Anderson Children's Cancer Hospital.
About Stripes® Convenience Stores
Stripes Convenience Stores operate more than 700 convenience stores in Texas, New Mexico and Oklahoma. Restaurant service is available in over 440 of its stores, primarily under the proprietary Laredo Taco Company® brand. For more information about Stripes® Convenience Stores visit www.stripesstores.com.
MD Anderson is one of the world's most respected centers focused on cancer patient care, research, education and prevention. For the past 25 years, MD Anderson has ranked as one of the nation's top two cancer centers in U.S. News & World Report's annual "Best Hospitals" survey. MD Anderson Children's Cancer Hospital brings hope to families, offering the most advanced childhood cancer treatments in a kid-friendly environment.

Photo Caption:
Stripes® Stores Vice President of Marketing Eduardo Pereda presents a check for $1,350,000 to Cindy Schwartz, M.D., M.P.H., Division Head Pediatrics, ad interim, MD Anderson's Children's Cancer Hospital. Customers and employees of Stripes Convenience Stores raised more than $1.3 million for pediatric cancer research and education programs, surpassing the company's goal of $1 million, during the Stripes Stores Celebrates Tomorrows campaign from September 16 to October 13, 2015.