If you need to reach customer service, please call 1-800-255-0711 or use the form on our contact page.
Stripes Stores
Stripes® Convenience Stores Awards Mike Vrana Area Manager from Houston, Texas with a New 2014 C250 Mercedes Benz Sedan at its Annual "100 Days of Summer" Awards and Recognition Celebration

(Corpus Christi, Texas) October 10, 2013 – Stripes® Convenience Stores awarded Mike Vrana, area manager from Houston, Texas with a new 2014 C250 Mercedes Benz Sedan at its annual "100 Days of Summer" Awards and Recognition Celebration held on October 8, 2013, aboard the USS LEXINGTON in Corpus Christi, Texas. Over 140 leaders from Stripes Convenience Stores attended the dinner and event.

The "100 Days of Summer" celebration is a program to recognize the area managers, market managers, and division managers from the Stripes Stores market areas across Texas, New Mexico, and Oklahoma. Stripes Stores offer program incentives to employees that produced high results and award top performers within the Company. Prizes included cash, televisions, and other incentives to reward employees who achieve or exceed their area's goals.

Steve DeSutter, Stripes Convenience Stores President and CEO, served as the event emcee and thanked the managers for their hard work and dedication, "It is because of you that we can celebrate the jobs well done this evening."

The black 2014 C250 Mercedes Benz was the grand prize of the night. Over 23 area managers were entered into a drawing based on earned incentive points for a chance to win the luxury vehicle.

Sam L. Susser, Chairman, President and CEO of Susser Holdings, praised the work of the Company's managers and employees.
"It takes a team, and we are here to celebrate the milestones," stated Susser as he discussed the origins of the business founded by his grandfather in 1938 and the Company's retail growth from five locations in 1988 to its present size.

Three generations of the Susser family joined DeSutter on stage to draw the lucky winner of the new 2014 Mercedes Benz C-Class Sedan as the event came to a close. Mike Vrana from Houston, Texas was announced as the new owner of the C250 Mercedes Benz. Vrana will celebrate his first year anniversary with Stripes Convenience Stores next month.
"I brag all the time that this is the best company to work for, and I have worked for some really great companies," Vrana humbly stated. "I am just amazed and proud to be part of the Stripes Convenience Stores family."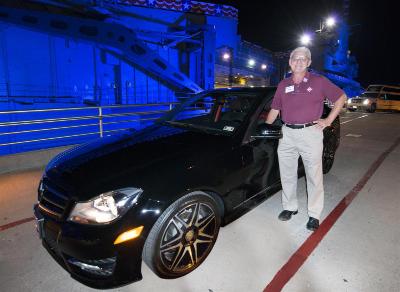 About Stripes Convenience Stores
Headquartered in Corpus Christi, Texas, Susser Holdings Corporation (NYSE: SUSS) is a third-generation family led business with over 1,150 company-operated or contracted locations. Susser Holdings is the parent company of Stripes® Convenience Stores and owns the general partner of Susser Petroleum Partners, LP. (NYSE: SUSP). In 2012, Susser Holdings was first named to the "Fortune 500" based on its total revenue for the 2011 fiscal year. The Company operates over 575 convenience stores across Texas, New Mexico and Oklahoma under the Stripes® Convenience Stores banner. Restaurant services are available in more than 370 of its stores, primarily under the proprietary Laredo Taco Company® brand. The Company also supplies branded motor fuel to approximately 580 independent dealers through its wholesale fuel division. For more information about Stripes® Convenience Stores visit www.stripesstores.com.