If you need to reach customer service, please call 1-800-255-0711 or use the form on our contact page.
Stripes Stores
Stripes® Convenience Stores Celebrates Día de los Muertos With A 2014 Commemorative Poster Giveaway

• 5 Day Contest Will Run on Stripes Facebook Page
• Emerging Texas Artist Created Limited Edition Poster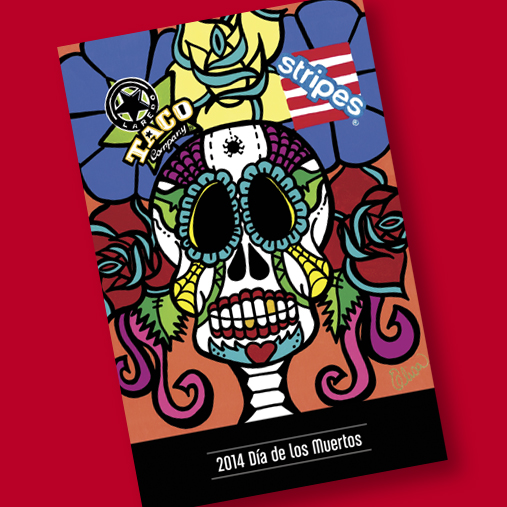 (Corpus Christi, Texas) October 29, 2014 – Stripes® Convenience Stores will be celebrating Día de los Muertos, a Mexican holiday that takes place on November 2, with a Facebook giveaway of autographed limited edition prints created by an emerging Texas Artist.
Beginning today, Stripes will launch a contest on its Facebook page asking fans to upload a picture of themselves celebrating Día de los Muertos. The contest will run through November 2, and 25 randomly selected winners will be announced on Monday, November 3, 2014 on Facebook.com/StripesStores. Each winner will receive a Laredo Taco Company® breakfast taco and a Stripes limited edition 18"x28" poster signed by the artist, Elisa Rector, a South Texas native who specializes in Día de los Muertos art.
The 28 year old artist was commissioned by Stripes to launch its first ever Día de los Muertos commemorative painting. Rector created the original 16" by 20" art piece and drew her inspiration from her South Texas roots.
"I wanted to incorporate the iconic Stripes and Laredo Taco Company logos in the head dress of the traditional sugar skull," said Rector. "When I think of Stripes, I think of friendly and fun. My inspiration for this piece comes from the cultural influences from living in South Texas."
Rector was given creative freedoms to design her interpretation of the Company's first commemorative Día de los Muertos painting.
"We hope our customers will enjoy her interpretation of our brands through our first Día de los Muertos poster," Eduardo Pereda, Stripes Stores Marketing Vice President said.
Customers interested in a chance to win a Laredo Taco Company breakfast taco and a limited edition autographed poster must submit their best Día de los Muertos face painting photo through a comment on the Stripes Facebook page (www.facebook.com/stripesstores) starting October 29, 2014. Winners will be chosen at random and will be announced on November 3, 2014.
About Stripes® Convenience Stores
The Company operates over 645 convenience stores in Texas, New Mexico and Oklahoma, over 580 under the Stripes® banner and 47 under the Sac-N-Pac banner. Restaurant service is available in over 400 of its stores, primarily under the proprietary Laredo Taco Company® brand. For more information about Stripes® Convenience Stores visit www.stripesstores.com. Contact information: Jessica Davila-Burnett, Stripes® Convenience Stores, Public Relations Director O: 361.654.4882 M: 361.290-3257 Email: jessica.davila-burnett@susser.com