If you need to reach customer service, please call 1-800-255-0711 or use the form on our contact page.
Stripes Stores
Stripes® Convenience Stores Awards 20 Public Elementary Schools $200 Learning Garden Grants

"Stripes Fresh Learning Garden seeded by Laredo Taco Company®"
Schools Photo Opportunities and Check Presentations

• 20 Elementary Schools Received $200 Grants and Garden Kits
• Grant includes "Get a Fresh Start" Teachers' Appreciation Taco Party
• Over 85 schools received Stripes Fresh Learning Garden Kits
(Corpus Christi, TX) November 5, 2014 - Stripes® Convenience Stores has awarded 20 Texas public elementary schools $200 each to teach students about fresh vegetables through the Stripes Fresh Learning Garden seeded by Laredo Taco Company grant. The grant includes $200 for supplies, a garden kit – educational coloring books for each student, garden seed packets to make Laredo Taco Company® salsa - jalapeno, tomato, cilantro and onion, a "Get a Fresh Start" teachers' appreciationbreakfast party, and Stripes coupons for the students and staff. The Stripes Fresh Learning Garden will give students in neighboring schools a hands-on experience to understand where food comes from and learn the value of using fresh foods. Stripes has invested over $10,000 in funds, seeds and supplies to assist the elementary schools with their gardens.

Over 85 elementary schools applied for the Stripes Fresh Learning Garden seeded by Laredo Taco Company grant and every school received a garden kit and Stripes® coupons for freebies to use as incentives for the students.

Beginning in November, Stripes and Laredo Taco Company representatives will tour Texas to help students learn the value of using fresh ingredients and present grant checks to school officials at each selected school.

San Angelo: Santa Rita Elementary
Midland/Odessa: Gonzales Elementary and Parker Elementary
Lubbock: Bayless Elementary
Corpus Christi: Fannin Elementary, George Evans Elementary, Calk Elementary, Robert Wilson Elementary, Sam Houston Elementary, and Flour Bluff Elementary
Laredo: Charles Borchers Elementary, Octavio Salinas Elementary, Alicia Ruiz Elementary, and Kazen Elementary
Rio Grande Valley: Santos Livas Elementary, Dr. Rodriguez Elementary, Sullivan Elementary, Sam Rayburn Elementary, Vermillion Road Elementary, and Carmen Anaya Elementary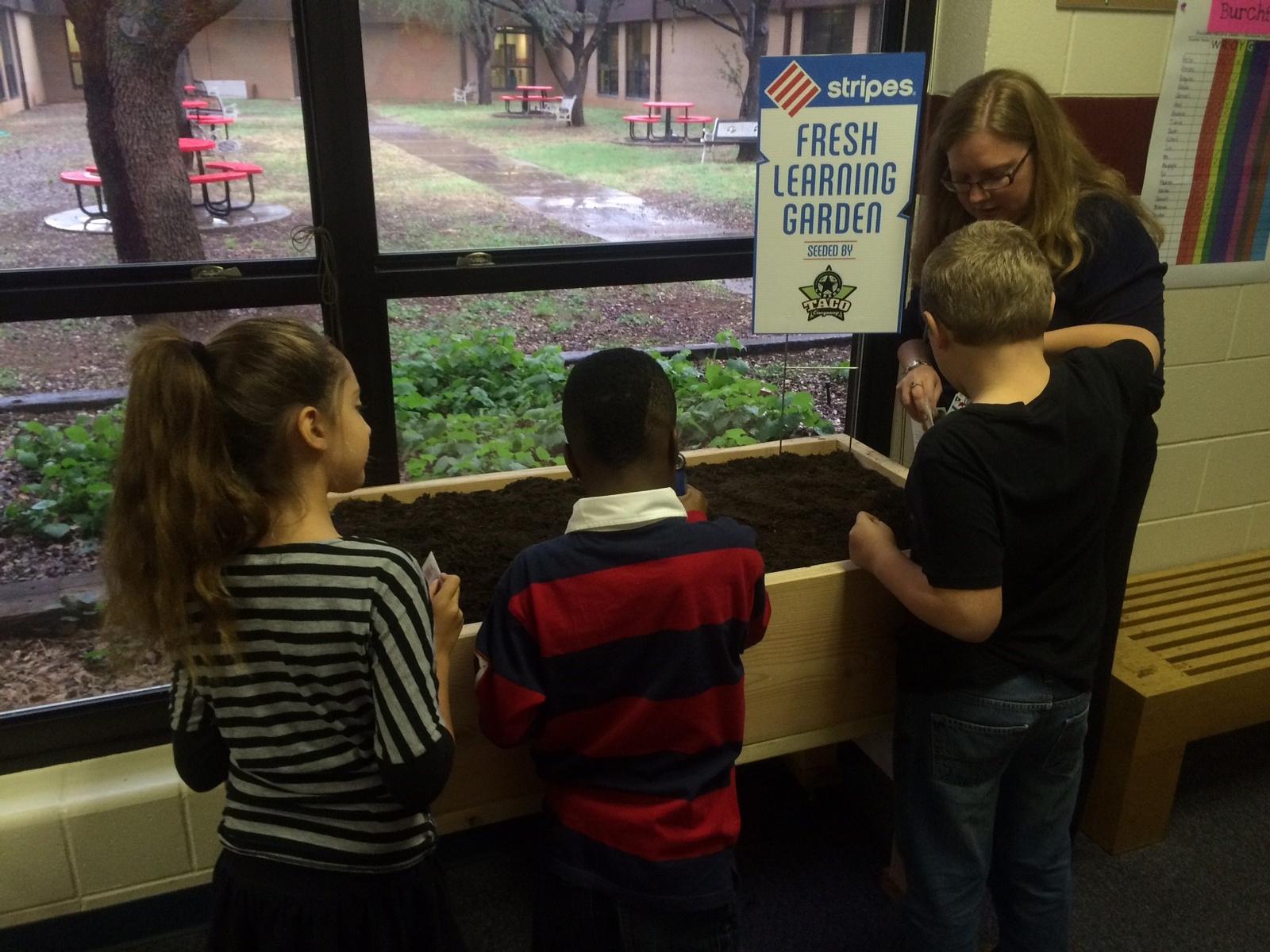 Kristin Gerhard, Parker Elementary School Teacher in Midland, Texas, plants cilantro, onion, jalapeno pepper, and tomato seeds (Laredo Taco Company pico de gallo and salsa ingredients) along with her second grade students.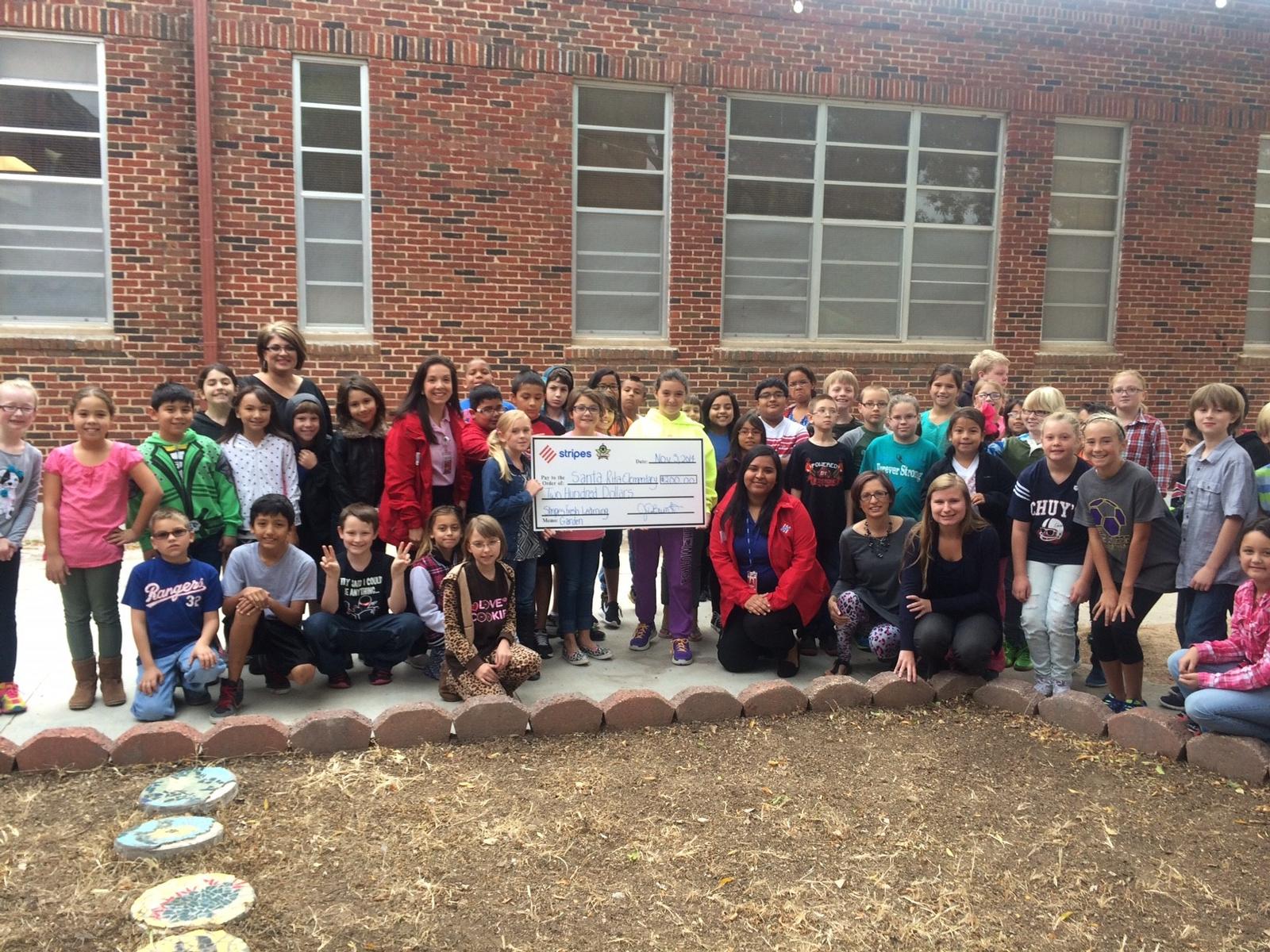 Santa Rita Elementary School Teacher, Tara Kelly (San Angelo, Texas) and her class were presented with a $200 Stripes Fresh Learning Garden Seedby by Laredo Taco Company Grant. Also pictured: Stripes Public Relations Representatives