If you need to reach customer service, please call 1-800-255-0711 or use the form on our contact page.
Stripes Stores
Texas Operation Military Kids Receives $10,000 from Stripes® Convenience Stores Through a Partnership with Red Bull® Energy Drink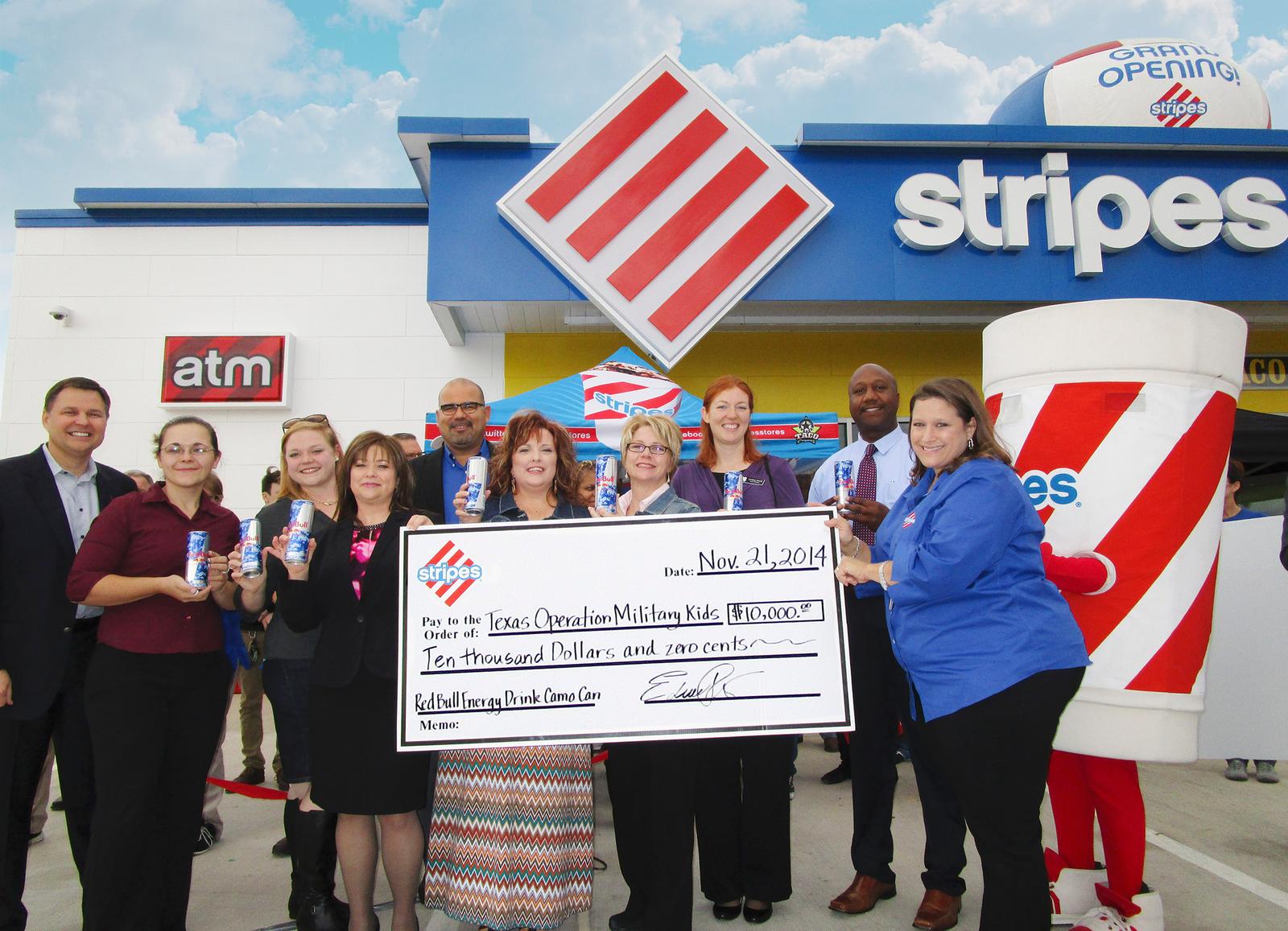 (Corpus Christi, Texas) November 24, 2014 – Stripes® Stores presented $10,000 to Texas Operation Military Kids during a new store grand opening and ribbon-cutting ceremony held last Friday, November 21, in Killeen, Texas. The amount presented to the statewide organization reflected the portion of proceeds from the sale of the limited edition Red Bull Camo Can that was sold earlier this year at all Stripes locations from July 28 through September 28. Customers who purchased the limited edition Red Bull Camo Can at Stripes supported the non-profit organization which serves military children and youth throughout the state of Texas.

"We would like to thank Stripes for being an outstanding corporate citizen and launching this project, giving Texas Operation Military Kids support through the sale of the limited edition Red Bull Camo Can," stated David Wright, Texas 4-H Military Program Manager. "The funds received from the Camo Can sales will help us continue the framework of our programs supporting Texas military youth and children through leadership development, health and fitness, arts and recreation, and academic mentoring and intervention."
Texas Operation Military Kids (TOMK) is the U.S, Army's collaborative effort with the National Guard, Army Reserves, and statewide communities to support children and youth impacted by deployment. TOMK goal is to connect military children and youth who are geographically-dispersed, with local resources in order to achieve a sense of community support and enhance their well-being.
Red Bull vitalizes body and mind. Red Bull's effects have been recognized throughout the world by a variety of people such as top athletes, busy professionals, college students and travelers on long journeys. An 8.4 fl. oz can of Red Bull Energy Drink contains 80mg of caffeine, equivalent to a cup of home-brewed coffee. Red Bull is not recommended for those sensitive to caffeine, children, or pregnant or nursing women.
Photo: Stripes® Stores representatives presented $10,000 to Texas Operation Military Kids officials at a ceremonial check presentation in Killeen, Texas during a new store grand opening held on November 21, 2014. Red Bull Energy Drink donated a portion of the proceeds from the sale of its limited edition Camo Cans which were sold at Stripes Stores earlier this year.

About Stripes® Convenience Stores
The Company operates over 645 convenience stores in Texas, New Mexico and Oklahoma, over 580 under the Stripes® banner and 47 under the Sac-N-Pac banner. Restaurant service is available in over 400 of its stores, primarily under the proprietary Laredo Taco Company® brand. For more information about Stripes® Convenience Stores visit www.stripesstores.com.

Contact information: Jessica Davila-Burnett, Stripes® Convenience Stores, Public Relations Director O: 361.654.4882 M: 361.290-3257 Email: jessica.davila-burnett@susser.com