If you need to reach customer service, please call 1-800-255-0711 or use the form on our contact page.
Stripes Stores
Stripes® Convenience Stores Launches the Stripes College Scholarship Fund to Benefit Local College Bound Students
CORPUS CHRISTI, Texas, Dec. 1, 2014 - Obtaining a college education will now be easier for students within the Stripes® operating market areas thanks to the Stripes College Scholarship Fund, a program launched today by Stripes Convenience Stores.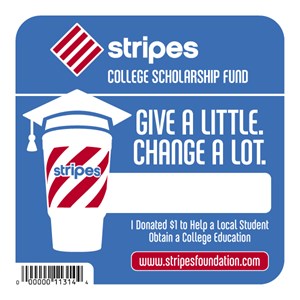 Today, Stripes will begin its second in-store fundraising campaign, inviting customers to participate by donating as little as $1. In appreciation for their contribution, customers will receive a recognition cut-out that will be displayed in the store, along with a free 12-ounce Slush Monkey® coupon and a buy-one-get-one-free regular-size Snickers® candy bar.
Stripes wants to make a difference for those students who are pursuing their educational goals by offering the Stripes® College Scholarship Fund.
"Last year, we raised $545,000 to award 545 local college students each with a $1,000 scholarship, thanks to the help of our passionate Stripes team members and generous customers," said Eduardo Pereda, Vice President of Marketing for Stripes LLC. "As we look to the future, we believe that education is the key to unlocking the potential for success. It is our hope that by partnering with our customers and our team members, Stripes can positively impact our market areas by helping local students achieve their dreams of obtaining a college degree."
The goal in the second year of this Company-sponsored campaign is to raise $600,000 to award 600 students in Texas, New Mexico and Oklahoma with $1,000 scholarships. All proceeds raised from the in-store campaign will be distributed to students in the 2015-2016 academic year. Stripes is underwriting all administrative costs to run the scholarship program.
The month long in-store fundraising campaign will be held at all Stripes locations throughout the Stripes operating area and will end on December 31. The scholarship awards will be selected and managed by the participating community colleges and universities enrolled in the program.
For more information about the Stripes® College Scholarship Fund, visit www.stripesfoundation.com

About Stripes® Convenience Stores
The Company operates over 645 convenience stores in Texas, New Mexico and Oklahoma, over 580 under the Stripes® banner and 47 under the Sac-N-Pac banner. Restaurant service is available in over 400 of its stores, primarily under the proprietary Laredo Taco Company® brand. For more information about Stripes® Convenience Stores visit www.stripesstores.com.