If you need to reach customer service, please call 1-800-255-0711 or use the form on our contact page.
Stripes Stores
FOR IMMEDIATE RELEASE
September 29, 2014



MEDIA ADVISORY

WHO: Stripes® Convenience Stores
WHAT: Stripes Stores is celebrating National Coffee Day with a FREE 20 oz. CAFE DE LA CASA® Coffee. Customers interested in participating in the Stripes® Stores promotion may visit the Stripes Facebook page at www.facebook.com/stripesstores to print the FREE 20 oz. coffee
coupon from the Stripes Prize Cooler Tab located on the Stripes Facebook page.
WHERE: All Stripes® Convenience Stores will be accepting the printed a FREE 20 oz. CAFE DE LA CASA® Coffee coupon.
WHEN: Stripes will run the FREE 20 oz. CAFE DE LA CASA® coupon today through tomorrow on
its Facebook page. The coupon will be valid from now until 11:59 p.m., September 30, 2014.
WHY: Monday, September 29, 2014, is National Coffee Day!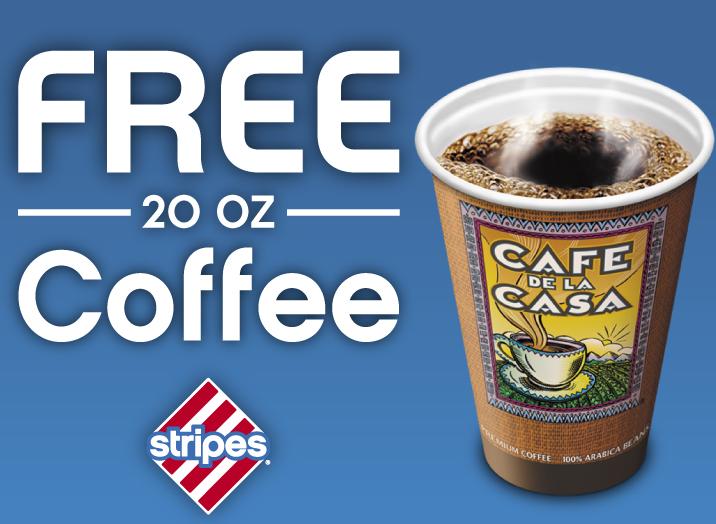 Coupon available at:
www.facebook.com/stripesstores
About Stripes® Convenience Stores
The Company operates over 630 convenience stores in Texas, New Mexico and Oklahoma, over 580 under the Stripes® banner and 47 under the Sac-N-Pac banner. Restaurant service is available in over 400 of its stores, primarily under the proprietary Laredo Taco Company® brand.