If you need to reach customer service, please call 1-800-255-0711 or use the form on our contact page.
Stripes Stores

FOR IMMEDIATE RELEASE
For more information contact:
Nino Cardenas, Public Relations & Marketing Manager
publicity@wbcalaredo.org
www.wbcalaredo.org
Office (956) 722-0589 Fax (956) 722-5528 Cell (956) 286-9222(WBCA)
Stripes® Media/Celebrity Jalapeño Eating Challenge Promotes Upcoming WBCA Jalapeño Festival Sponsored By La Costeña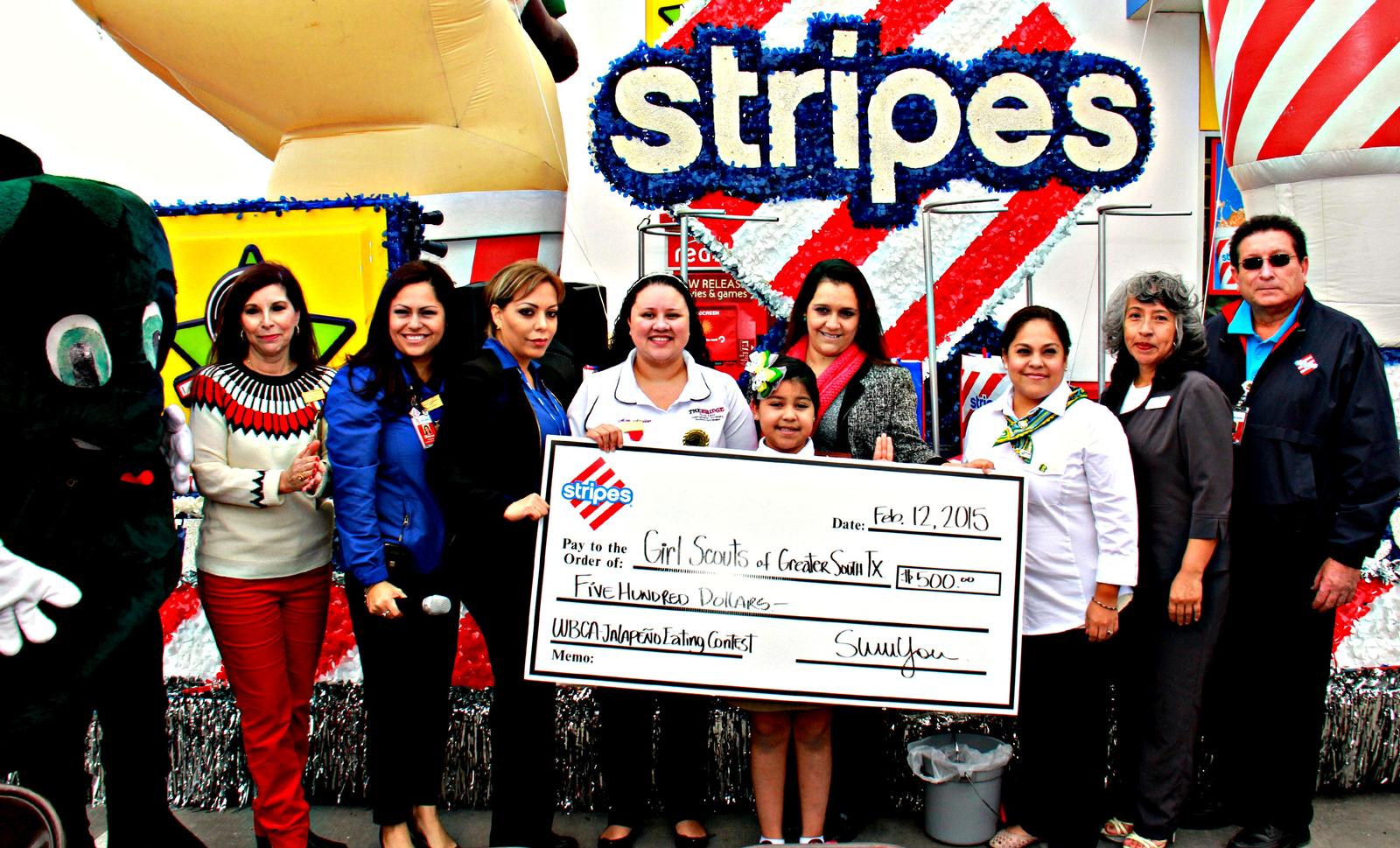 LAREDO, TX - A total of 17 participants went head-to-head in the Stripes® Media/Celebrity Jalapeño Eating Challenge in South Texas this Thursday, Feb.12 at the Stripes® Convenience Store on Jacaman Rd.
The participants included the beautiful 2014 Miss Laredo Latina Nancy Gomez; Radio Personalities Alex Melchor (Z-93's "El Brodita"); Returning Champion Albert "Big Al" Martinez (Big Buck 98.1 & Southern Distributing); Raulito (Z-93's El Doughboy); Ulyses Rivas (Z-93's DJ Wacko); Debbie Jo (Big Buck 98.1); Spinning Cris Garza (Big Buck 98.1); Alma Ferrara (KLDO TV Univision); Jesus Chuy Cortez (R Communications Promotions Director); Sergio Verastegui (R Communications); Gracie Rivera (R Communications); Luis Rubio (El Mañana); Judith Aguilar (TAMIU Bridge Newspaper); Jeanette Martinez (LISD ITV); Cindy Macias (KVTV CBS); Ed Cruz (Laredo Morning Times) and Jason Mack (Laredo Morning Times).
Media/Celebrities had only 5 minutes to attempt to eat as many jalapeños as they could for a good cause.
After 5 excruciating minutes, Bridge Newspaper Editor Judith Aguilar came out in first place, taking home the Grand Champion trophy and a $100 gift card courtesy of Stripes® Stores after eating 25 jalapeños! Albert "Big Al" Martinez from Big Buck 98.1 came in second with 23 jalapeños and Sergio Verastegui took third place with 15 jalapeños.
Stripes® Convenience Stores proudly hosted this event.
"We are proud to host the Stripes Media/Celebrity Jalapeño Eating Challenge, especially since it benefits the Girl Scouts of Greater South Texas," stated Thelma Delgado, Regional Director for Stripes® Convenience Stores. "We are excited to be involved in this year's WBCA Jalapeño Festival and we are looking forward to another great event."

Stripes® made a donation for every jalapeño they ate and presented a check for $500 to the Girl Scouts of Greater South Texas.
"We were honored by Stripes® for choosing us as their choice of organization," said Adriana Estevis, Membership Executive for the Girl Scouts of Greater South Texas. "We are very appreciative and we thank them for their donation."
Pepe Jalapeño and Andy the Aviator were on-site to cheer the contestants on as contestants tackled the eye-watering task.
The Jalapeño Festival Sponsored by La Costeña was formed in 1978 and will be celebrating its 37th Anniversary during the 118th Washington's Birthday Celebration. What began as a small gathering highlighting local talent has now become an international sensation featuring mainstream artists like La Mafia, Costumbre, Gloria Trevi, Tigres del Norte and more!!
This year, fans are in for a special treat, with TWO of the hottest acts around: La Leyenda will take center stage on Friday night and Intocable will headline Saturday night converting the Jalapeño Festival grounds into the largest dance floor in South Texas!
A second stage featuring Texas country, rock and a variety of other musical genres adds to the exciting lineup. Country artist Roger Creager will make his much-anticipated Laredo debut along with Austin's southern rock band The Bright Light Social Hour.
WBCA is bringing back all of the fun elements of this world-renowned festival including the Stripes® Miss Jalapeño Contest, El Grito Contest, Tug of War, International Waiter's Race, the world renowned La Costeña Jalapeño Eating Contest, and much more! – It doesn't get hotter than this! You can sign up for the events as individuals or teams by visiting jalapenofest.org or visiting Guerra Communication.
For 2015, we are also happy to offer a pre-sale discount Two-Day Jalapeño Festival pass for only $30, for a limited time and while supplies last! The $30 two-day pass will let you enjoy two of the biggest concerts around and two full days of festival fun for the price of only ONE ticket. This special discount ends on Friday, Feb 20th.
Remember that you can purchase your Jalapeño Festival tickets online, by visiting jalapenofest.org, WBCA Kiosk at Mall del Norte and exclusively at participating Stripes® Stores in the Laredo area.
The current record for the most Jalapeños eaten during the contests was set by professional eater Patrick "Deep Dish" Bertoletti with at a very hot (and painful) 266 jalapeños in 15 minutes!!! For us non-professionals, the local record was set in 1992 by Braulio Ramirez with a whopping 141 jalapeños in 15 minutes. You have to see it to believe it!
The WBCA Jalapeño Festival Sponsored by La Costeña, which will be held at the El Metro Park and Ride on Hillside Road, attracts approximately 25,000 thousand people over a two-day period and is proudly sponsored La Costeña. Additional event sponsors include Stripes® Convenience Stores, Anheuser-Busch, Miller Lite, South Texas Ford Dealers, Metro PCS, Whataburger, Valley Day & Night Clinic and the Mattress Firm. In-Kind Media Sponsor: Guerra Communications/Z93.