If you need to reach customer service, please call 1-800-255-0711 or use the form on our contact page.
Stripes Stores
For Immediate Release

Stripes® Convenience Stores Announces 2nd Annual In-Store Campaign and Partnership with MD Anderson Children's Cancer Hospital

• Stripes Celebrates Tomorrows – September 16 – October 13
• 100% Benefits Children's Cancer Programs and Treatments
• Stripes Community Strike Through Cancer Events Announced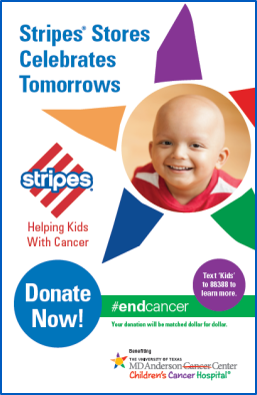 (CORPUS CHRISTI, TX) September 8, 2015 — Stripes® Convenience Stores has announced its alliance with The University of Texas MD Anderson Children's Cancer Hospital to help kids with cancer. During Pediatric Cancer Awareness Month, Stripes will launch its second annual in-store fundraising campaign -"Stripes Stores Celebrates Tomorrows" beginning on September 16, 2015.
Last year, Stripes® Stores helped save kids' lives by raising more than $1.4 million to provide more effective and safer cancer treatments and fund engaging programs for kids with cancer. In 2014, a total of $2.8 million, with matching funds from The James B. and Lois R. Archer Charitable Foundation, was donated to these programs on behalf of the generous guests that shopped at Stripes Stores. This year, each donation will be matched dollar for dollar by generous donors and the impact of every dollar collected at Stripes Stores will be magnified.
Stripes guests will be able to donate at any Stripes location during the campaign, which will run from September 16 through October 13, 2015. Individuals may also contribute via mobile by texting KIDS to 88388. Every dollar collected via text will also be matched dollar for dollar.
"MD Anderson is the number one cancer treatment center in the country leading the way in cancer research," said Eduardo Pereda, Stripes Stores Vice President of Marketing. "We are honored to launch Stripes 'Celebrates Tomorrows' to benefit MD Anderson's Children's Cancer Hospital and to help fund cancer research to find a cure for children around the world. Our guests and Stripes team members have shown their generosity in the past and we hope they will continue to embrace this remarkable program."
Stripes employees are committed to raising funds and awareness for MD Anderson Children's Cancer Hospital as cancer is the leading cause of death in children suffering from diseases. Stripes guests will be asked to help children with cancer by purchasing a $1 pin-up paper icon. Participating customers will receive coupons for a free 12 ounce Slush Monkey® and a buy-one-get-one free Smokin' Barrel® Snack Co. Peanuts or Trail Mix snack with their donation.

"We are so appreciative of Stripes Stores tremendous generosity and we look forward to partnering with them for their 2nd annual campaign," says Cindy Schwartz, M.D., M.P.H., ad-interim division head of Pediatrics at MD Anderson Children's Cancer Hospital. "Their support for the Children's Cancer Hospital is making life better for children and young adults with cancer."
Stripes Stores will also host campaign kick-off events in six Texas cities. The entire community is invited to paint a red line (strike) through the word cancer emblazoned outside of designated Stripes locations. Guests, survivors, community leaders, and Stripes employees will able be to write tributes and words of encouragement in honor of their loved ones during the kick-off events.
The following cities and Stripes locations will host the community kick-offs:
| | | | |
| --- | --- | --- | --- |
| Date | City | Time | Stripes Location |
| September 16 | San Angelo | 10:15 a.m. - Noon | 3925 S. Bryant/Ben Ficklin |
| September 17 | Odessa | 10:15 a.m. - Noon | 8001 E. Hwy 191/Faudree |
| September 18 | Lubbock | 10:15 a.m. - Noon | 806 34th Street/I-27 |
| September 21 | Laredo | 10:15 a.m. - Noon | 2519 Jacaman Road/Loop 20 |
| September 22 | McAllen | 10:15 a.m. - Noon | 1901 Dove Ave. |
| September 29 | Corpus Christi | 3:00 p.m. - 4:30 p.m. | 4754 SPID/Everhart |
About Stripes® Convenience Stores
The Company operates more than 700 convenience stores in Texas, New Mexico and Oklahoma. Restaurant service is available in over 440 of its stores, primarily under the proprietary Laredo Taco Company® brand. For more information about Stripes® Convenience Stores visit www.stripesstores.com. Contact information: Jessica Davila-Burnett, Stripes® Convenience Stores, Public Relations Director O: 361.654.4882 M: 361.290-3257 Email: jessica.davila-burnett@sunoco.com.

About MD Anderson Children's Cancer Hospital
The University of Texas MD Anderson Children's Cancer Hospital exists within MD Anderson in Houston, one of only 44 comprehensive cancer centers designated by the National Cancer Institute. The children's hospital brings hope to families, offering the most advanced childhood cancer treatments while developing and incorporating research-driven therapies into individual care. Unique supportive services, including an accredited K-12 school for patients, are offered. The faculty and staff actively work with our patients and their families and caregivers to provide a supportive, kid-friendly environment.

###