If you need to reach customer service, please call 1-800-255-0711 or use the form on our contact page.
Stripes Stores
MEDIA ADVISORY
PHOTO OPPORTUNITY: LOCAL MD ANDERSON PEDIATRIC CANCER PATIENTS TO SERVE AS HONORARY PAINTERS
Stripes® Convenience Stores Pediatric Cancer Awareness Community Event and "Stripes Celebrates Tomorrows" Kick-Off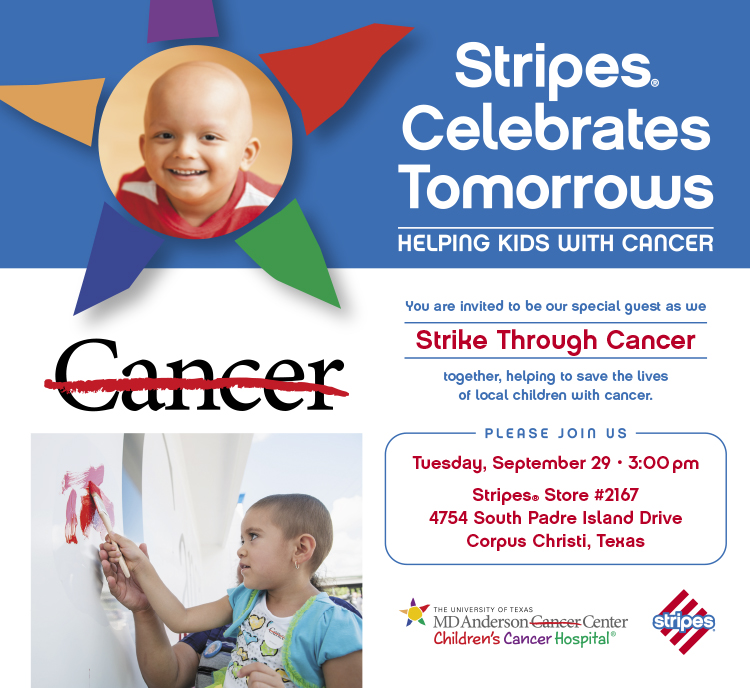 WHO: Stripes Convenience Stores, MD Anderson Children's Cancer Hospital and Distinguished Guest Speaker - MD Anderson Cancer Hospital President and CEO, Dr. Ron DePinho
WHAT: Stripes will host "Stripes Celebrates Tomorrows" campaign kick-off, local MD Anderson pediatric patients to serve as honorary painters, and Dr. Ron DePinho will serve as keynote speaker.
WHY: The entire community is invited to paint a red line (strike) through the word cancer emblazoned outside of a designated Stripes location. The event is free and open to the public.
Customers will be able to write tributes and words of encouragement to honor their loved ones during the kick-off event.
WHEN: 3 p.m. - 4 p.m., Tuesday, September 29, 2015

WHERE: Stripes Store #2167– 4754 SPID (Everhart/SPID)
About Stripes® Convenience Stores
Stripes Convenience Stores operate more than 700 convenience stores in Texas, New Mexico and Oklahoma. Restaurant service is available in over 440 of its stores, primarily under the proprietary Laredo Taco Company® brand. For more information about Stripes® Convenience Stores visit www.stripesstores.com.
Contact information: Jessica Davila-Burnett, Stripes® Convenience Stores, Public Relations Director O: 361.654.4882 M: 361.290-3257 Email: jessica.davila-burnett@sunoco.com.