Stripes Stores
FOR IMMEDIATE RELEASE

Stripes® Convenience Stores Eighth Annual Turf + Surf Event Raises
$525,000 Benefiting 50 United Way Agencies
Across Texas, New Mexico and Oklahoma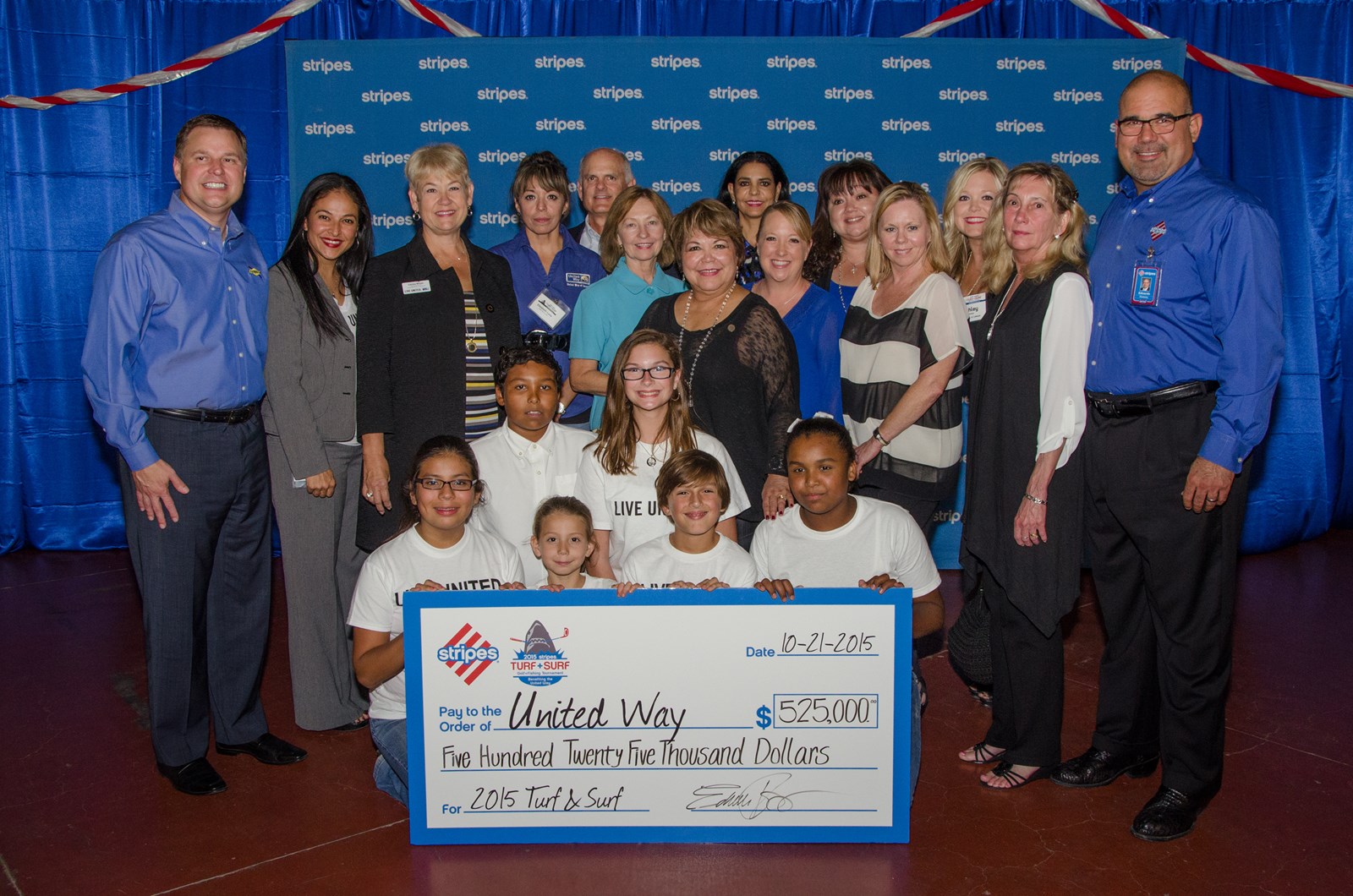 (Corpus Christi, Texas) October 23, 2015 – Stripes® Convenience Stores raised $525,000 at its Eighth Annual Stripes Turf + Surf fundraising event benefiting 50 United Way agencies across its market areas: Texas, New Mexico and Oklahoma. The event was held Wednesday night in Corpus Christi, Texas.
The Eighth Annual Stripes Turf + Surf fundraiser is a signature event for Stripes Convenience Stores. Eduardo Pereda, Stripes LLC Vice President of Marketing, addressed a crowd of more than 900 participants, including: supplier partners, United Way staff and sponsors at the American Bank Center.
"We are very proud of our Stripes team, our generous suppliers and the power of our partnership with United Way as we serve the communities where our customers and employees live and work," Pereda stated.
The fundraiser featured an appreciation dinner which offered a raffle, silent auction, bid board auction, and a live auction. The festivities will continue today with three rounds of golf and a fishing tournament.
Since 2008, Stripes has partnered with United Way and has raised more than $3 million for United Way agencies through its annual Stripes Turf + Surf fundraisers.
About Stripes® Convenience Stores
Stripes Convenience Stores operate more than 700 convenience stores in Texas, New Mexico and Oklahoma. Restaurant service is available in over 440 of its stores, primarily under the proprietary Laredo Taco Company® brand. For more information about Stripes® Convenience Stores visit www.stripesstores.com.
Contact information: Jessica Davila-Burnett, Stripes® Convenience Stores, Public Relations Director O: 361.654.4882 M: 361.290-3257 Email: jessica.davila-burnett@sunoco.com

Photo Caption:
Stripes® Stores Leadership Team presents a check for $525,000 to United Way representatives. The funds will benefit 50 United Way agencies across Texas, New Mexico and Oklahoma. Photo Credit: Eric Hammond