Stripes Stores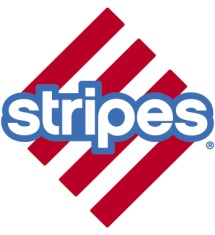 Stripes® Convenience Stores to Host NASCAR® Celebrations at Participating
Stripes Stores throughout Central Texas
• 11 a.m. – 4 p.m., Tuesday December 15 • 2210 E. Stan Schlueter Loop, Killeen, TX 76542
• 11 a.m. – 1 p.m., Wednesday, December 16 • 1801 S. New Road, Waco, TX 76712
• 11 a.m. – 1 p.m., Thursday, December 17 • 2500 Franklin Avenue, Waco, TX 76710
• 3 p.m. – 6 p.m., Thursday, December 17 • 514 Sun Valley Blvd, Hewitt, TX 76643
• 11 a.m. – 4 p.m., Friday, December 18 • 6511 State Highway 317, Temple, TX 76513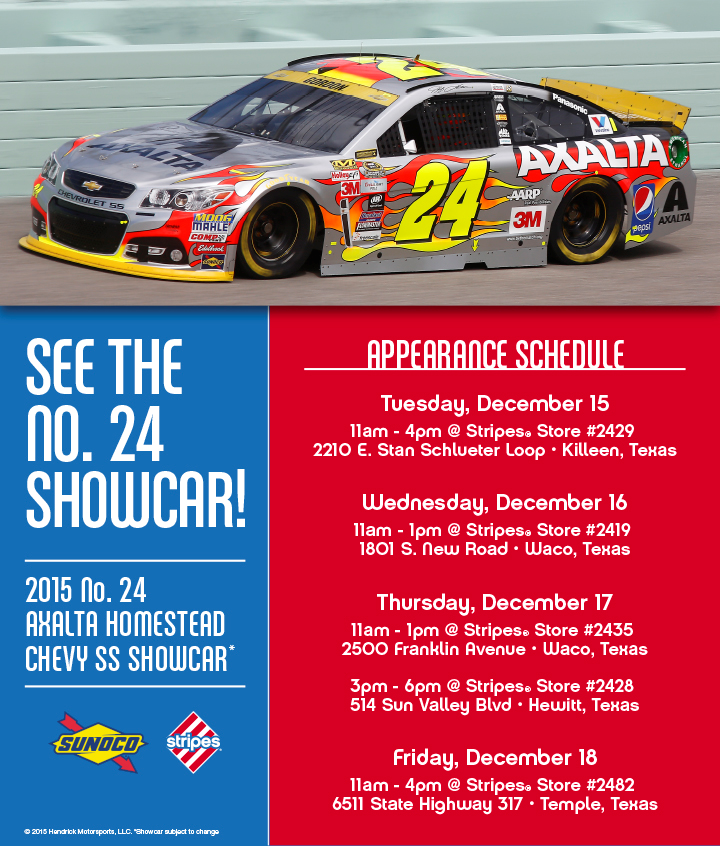 (Corpus Christi, TX) Friday, December 11, 2015 - Stripes® Convenience Stores will host five "Neighborhood and Community NASCAR® Celebrations" as part of welcoming Sunoco® Fuel, the Official Fuel of NASCAR®, to the Waco, Temple and Killeen area. The entire community is invited to join Stripes team members at the following locations:
11 a.m. – 4 p.m., Tuesday December 15 • 2210 E. Stan Schlueter Loop, Killeen, TX 76542
11 a.m. – 1 p.m., Wednesday, December 16 • 1801 S. New Road, Waco, TX 76712
11 a.m. – 1 p.m., Thursday, December 17 • 2500 Franklin Avenue, Waco, TX 76710
3 p.m. – 6 p.m., Thursday, December 17 • 514 Sun Valley Blvd, Hewitt, TX 76643
11 a.m. – 4 p.m., Friday, December 18 • 6511 State Highway 317, Temple, TX 76513
Each event will include special appearances by NASCAR® Show Car #24 and Stripes mascots. In addition, customers will have a chance to win a $25.00 Stripes gift card, play games and sample delicious food from Laredo Taco Company® only at Stripes Stores.
These locations will now offer Sunoco Fuel: unleaded, unleaded, super unleaded and diesel, along with a dining area which seats 30, "the beer super cooler" – a designated cooler for beer/adult beverages set to cool below 32 Degrees Fahrenheit, "the wall" – a creative space for customers to customize their cool with over 2.1 billion possible fountain combinations, as well as, 7,000 square feet of fast, fun and friendly customer conveniences.
About Stripes® Convenience Stores
Stripes Convenience Stores operate more than 700 convenience stores in Texas, New Mexico and Oklahoma. Restaurant service is available in over 440 of its stores, primarily under the proprietary Laredo Taco Company® brand. For more information about Stripes® Convenience Stores visit www.stripesstores.com
Contact information: Sharon Yon-Johansson, Stripes® Convenience Stores, Public Relations O: 361.693.3752 Email: Sharon.Yon@sunoco.com
# # #