If you need to reach customer service, please call 1-800-255-0711 or use the form on our contact page.
Stripes Stores
Stripes® Convenience Stores Announces Third Annual In-Store Campaign and Alliance with MD Anderson Children's Cancer Hospital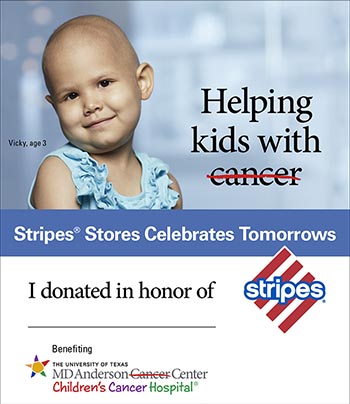 DALLAS, Texas, September 6, 2016 – For the third consecutive year, Stripes® Convenience Stores is kicking off its annual campaign Sept. 7 with The University of Texas MD Anderson Children's Cancer Hospital to raise money to help kids with cancer. In honor of Pediatric Cancer Awareness Month in September, Stripes will launch this year's in-store fundraising campaign, "Stripes® Stores Celebrates Tomorrows," which will run through Oct. 4.

During the past two years, the Stripes Stores Celebrates Tomorrows campaign has raised more than $2.75 million for MD Anderson Children's Cancer Hospital. The 2016 campaign goal of $1.3M will help save children's lives by providing safer, more effective treatments; keeping pediatric cancer patients in school during treatments; and funding engaging programs. One hundred percent of the funds raised will go to these programs, and each donation will be matched dollar for dollar by generous donors, magnifying the impact of every dollar. Stripes customers will be able to donate at all Stripes locations during the campaign.

"Pediatric cancer is extremely underfunded, even though it is the leading cause of death by disease in children. MD Anderson leads the nation in cancer care, and we are grateful to our communities for making a difference in the lives of children and their families who have been impacted by this terrible disease," said Eduardo Pereda, Stripes Stores vice president of marketing "We are honored to continue Stripes Stores Celebrates Tomorrows, which was MD Anderson's first in-store, paper pin-up fundraising campaign. Our customers and employees have shown their generosity in the past, and we hope they will continue to embrace this remarkable program."

Stripes team members are committed to raising funds and awareness for MD Anderson Children's Cancer Hospital, supporting programs that span cancer prevention, research and quality of life. Customers will be asked to help children with cancer by purchasing a $1 paper pin-up. Participating customers will receive coupons for a free 12-ounce Slush Monkey® and a buy-one-get-one-free 32-ounce Nestle Resource natural spring water with their donation.

"Taking care of children with cancer has been a top priority at MD Anderson," said Cindy L. Schwartz, M.D., M.P.H, division head ad interim, Pediatrics. "Because treatment options for many pediatric cancers have not improved in more than 20 years, newer and better therapies are needed. We are also extremely grateful for the support the Stripes communities are providing to make life as normal as possible for the children and their families who are dealing with the complications of cancer."

About Stripes® Convenience Stores
Stripes Convenience Stores operates more than 700 convenience stores in Texas, New Mexico and Oklahoma. Restaurant service is available in over 450 of its stores, primarily under the proprietary Laredo Taco Company® brand. For more information about Stripes® Convenience Stores visit www.stripesstores.com. Stripes is owned by Sunoco LP (NYSE: SUN), a master limited partnership that operates approximately 1,300 retail fuel sites and convenience stores (including APlus, Stripes, Aloha Island Mart and Tigermarket brands) and distributes motor fuel to stores, independent dealers, commercial customers and distributors located in 30 states at approximately 6,900 sites. For more information, visit the Sunoco LP website at www.SunocoLP.com.
About MD Anderson
The University of Texas MD Anderson Cancer Center in Houston ranks as one of the world's most respected centers focused on cancer patient care, research, education and prevention. The institution's sole mission is to end cancer for patients and their families around the world. MD Anderson is one of only 45 comprehensive cancer centers designated by the National Cancer Institute (NCI). MD Anderson is ranked No.1 for cancer care in U.S. News & World Report's "Best Hospitals" survey. It has ranked as one of the nation's top two cancer hospitals since the survey began in 1990, and has ranked first for nine of the past 10 years. MD Anderson receives a cancer center support grant from the NCI of the National Institutes of Health (P30 CA016672).