If you need to reach customer service, please call 1-800-255-0711 or use the form on our contact page.
Stripes Stores
"EL CAMPEÓN" with a One Day Only BOGO and an Opportunity to
Recognize Local Champs with a $250 Stripes® Store Gift Card
Laredo Taco Company only at Stripes Stores All-Day BOGO EL CAMPEÓN Taco Offer
Social Media Photo Contest Honoring 8 Local Champions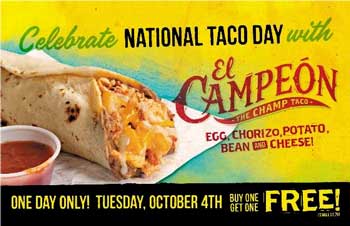 (Dallas, Texas) September 28, 2016 – In honor of National Taco Day (October 4th), Laredo Taco Company® has launched "the champion" of all tacos filled with egg, chorizo, potato, bean and cheese called "EL CAMPEÓN" – Limited Time Offer. For one day only, all day, October 4, 2016, Laredo Taco Company only at Stripes Stores will offer customers the opportunity to buy one EL CAMPEÓN and get one FREE!
To celebrate its new El CAMPEÓN taco (the champ taco), Laredo Taco Company customers will be able to nominate a local community champion - a hometown hero – on the Stripes Stores Facebook page (www.facebook.com/stripesstores) for a chance to win a $250 Stripes Store gift card. Eight winners from will be selected at random, no purchase necessary, and announced October 14, 2016. The "El CAMPEÓN" photo contest and rules are at http://bit.ly/nominateachamp.

About Stripes® Convenience Stores
Stripes Convenience Stores operate more than 700 convenience stores in Texas, New Mexico and Oklahoma. Restaurant service is available in over 450 of its stores, primarily under the proprietary Laredo Taco Company® brand. For more information about Stripes® Convenience Stores visit www.stripesstores.com. Stripes is owned by Sunoco LP (NYSE: SUN), a master limited partnership that operates approximately 1,300 retail fuel sites and convenience stores (including APlus, Stripes, Aloha Island Mart and Tigermarket brands) and distributes motor fuel to stores, independent dealers, commercial customers and distributors located in 30 states at approximately 6,900 sites. For more information, visit the Sunoco LP website at www.SunocoLP.com.