If you need to reach customer service, please call 1-800-255-0711 or use the form on our contact page.
Stripes Stores
Stripes® Convenience Stores Celebrates Día de los Muertos with a New Release of Two Limited-Edition 2016 Commemorative Cups Designed by Texas Artists
2016 Commemorative Cups Available at all Stripes Stores
Stripes Stores and Coca-Cola partnership
Cups Designed by Local Artists from South Texas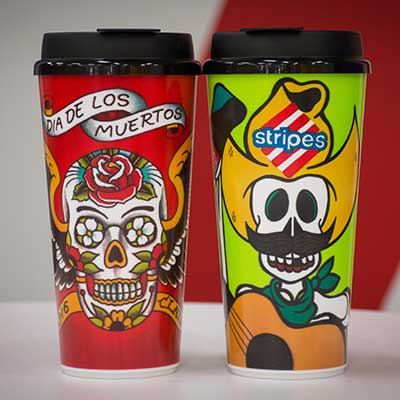 (Dallas, Texas) October 19, 2016 – Stripes® Convenience Stores is celebrating Día de los Muertos, a Mexican holiday that takes place between October 31 - November 2, with a release of two new limited-edition Dia de los Muertos commemorative cups available in Stripes Stores now. Stripes Stores and Coca-Cola® partnered together for their Second Annual Dia de los Muertos Commemorative Cups which are exclusive to Stripes Stores throughout Texas, New Mexico and Oklahoma. The cups are priced at $2.99, and include the first fill free.

Each cup was created by two Texas artists; Elisa Kyle Gilp, a 30-year-old South Texas native who specializes in Día de los Muertos art, and 25-year-old Christian Lain, a professional tattoo artist who lives in Corpus Christi.

Both artists returned from last year to design the new 2016 commemorative cups. The artists were commissioned by Stripes Stores and Coca-Cola in 2015 to launch their first-ever project. Each artist was given the creative freedom to design their own interpretation of the Companies' commemorative Día de Los Muertos cups. Gilp painted an original 16" by 20" piece and drew her inspiration from her South Texas roots using acrylic paint. Lain used watercolors to design his 8 ½" by 11" original pulling from the culture of calling South Texas his home. Each artist was asked to incorporate the Stripes Stores and Coca-Cola logo on their design.

Gilp designed the bright green cup with the "Dia de los Muertos" couple and Lain designed the red tumbler with a traditional calavera design.
---
About Stripes® Convenience Stores
Stripes Convenience Stores operate more than 700 convenience stores in Texas, New Mexico and Oklahoma. Restaurant service is available in over 450 of its stores, primarily under the proprietary Laredo Taco Company® brand. For more information about Stripes® Convenience Stores visit www.stripesstores.com. Stripes is owned by Sunoco LP (NYSE: SUN), a master limited partnership that operates approximately 1,300 retail fuel sites and convenience stores (including APlus, Stripes, Aloha Island Mart and Tigermarket brands) and distributes motor fuel to stores, independent dealers, commercial customers and distributors located in 30 states at approximately 6,900 sites. For more information, visit the Sunoco LP website at www.SunocoLP.com.