If you need to reach customer service, please call 1-800-255-0711 or use the form on our contact page.
Stripes Stores
Stripes® Stores Commissions Corpus Christi Latina Artist for Original Artwork Displayed in Selected New Stores Throughout Texas
(Dallas, Texas) November 3, 2016 – Stripes® Convenience Stores recently opened three new stores across Texas in the cities of Seguin, Elgin and Houston featuring commissioned artwork by Corpus Christi artist Mayra V. Zamora.
Zamora was asked by Stripes Stores officials to create a one-of-a-kind original art design that told the story of Laredo Taco Company®, the proprietary restaurant of Sunoco LP, which operates mostly in Stripes Stores throughout Texas, New Mexico and Oklahoma. Zamora was asked to study the Laredo Taco Company brand and understand the integrity of the art of making a homemade tortilla.
For Zamora, the task was easy as she pulled from her roots as a Latina growing up in South Texas as her inspiration.
Zamora named her pieces "Hecho A Mano" to reflect Laredo Taco Company's authentic Mexican food offerings and its love for tacos. Zamora inserted her own vision on how she saw Laredo Taco Company, working adjacent to the kitchens, steam tables and the friendly Laredo Taco Company staff.
Zamora was born in Austin and raised in the small town of Tivoli, Texas. She graduated top of her class, receiving numerous scholarships which helped fuel her dream of being an educator and an artist. She received her Bachelor's Degree in Art and Master's Degree in Secondary Education from Texas A&M University at Corpus Christi.
Zamora currently works for the Art Museum of South Texas and Kspace Contemporary as an Art Instructor and Arts After-School Teacher at the Antonio E. Garcia Arts & Education Center. Zamora was selected by the Art Center of Corpus Christi to create her first mural titled Chicano Pop inspired by her current body of work.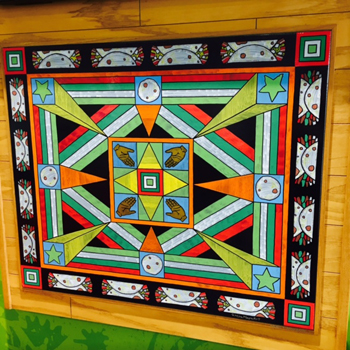 Additionally, Zamora was approached by Corpus Christi Downtown Management District to paint an electrical box located in the corner of the Nueces County Appraisal building. The painter has participated in exhibitions in North and South Texas, New York City, Los Angeles, Miami, Corpus Christi's Annual Day of the Dead celebration, Fiesta de la Flor, 1 of 24 artists selected to participate in Phase I and Phase II of the Loteria Mural in downtown Corpus Christ, and more.
She is a member of Kspace Contemporary Art Gallery, Art Center of Corpus Christi, Nexus Art Collective, RAW artists International Art Group, and V.I.P International Art Group.
"My current body of work is a devotion to the fundamentals of art and my love for my Mexican heritage. I focus on what I consider the most important elements of art: line, shape, and color; while incorporating Mexican iconography such as el ojo, la rosa, el taco, la mano, la tortilla, la calavera, and so much more," Zamora stated.
"My influences are derived from my childhood spending numerous hours looking through a kaleidoscope, looking out the car window while crossing the Mexican border, and staring at stained glass windows during Sunday mass.
As a child, I was captivated and highly inspired by the unique shapes, colorful patterns, and designs that I would see all over - such as in Mexican textiles, architecture, and within the vivacious culture. This has tremendously helped shape my artwork and myself as an adult artist."
About Stripes® Convenience Stores
Stripes Convenience Stores operate more than 700 convenience stores in Texas, New Mexico and Oklahoma. Restaurant service is available in over 450 of its stores, primarily under the proprietary Laredo Taco Company® brand. For more information about Stripes® Convenience Stores visit www.stripesstores.com. Stripes is owned by Sunoco LP (NYSE: SUN), a master limited partnership that operates approximately 1,300 retail fuel sites and convenience stores (including APlus, Stripes, Aloha Island Mart and Tigermarket brands) and distributes motor fuel to stores, independent dealers, commercial customers and distributors located in 30 states at approximately 6,900 sites. For more information, visit the Sunoco LP website at www.SunocoLP.com.
For more information on artist contact Mayra V. Zamora at 361-646-3205