If you need to reach customer service, please call 1-800-255-0711 or use the form on our contact page.
Stripes Stores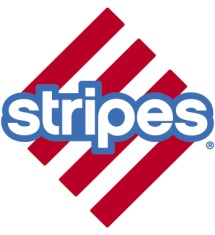 Stripes Stores Announces the Opening of Three
Stripes Stores Destroyed by Hurricane Harvey
(Dallas, TX) Tuesday, August 14, 2018 - Stripes® Convenience Stores announces the opening of three Stripes stores located in the Coastal Bend area that were destroyed by Hurricane Harvey last year. Stripes #9433, located at 511 East Cotter in Port Aransas will open today. Stripes #2146, located at 2589 Highway 361 in Ingleside is scheduled to open on August 22nd. And the third Stripes store, located at 235 Cleveland Boulevard in Aransas Pass will open on Wednesday, August 29th.
"We are excited to announce the openings of our newly rebuilt Stripes stores. Our team has worked very hard to return the stores to our communities and our loyal customers. Even though the hurricane destroyed these three stores, we were able to relocate our team members to other stores that were less impacted by the storm." stated Brad Williams, Senior Vice President, 7-Eleven, Inc.
Stripes will host opening celebrations for its team members and guests in the upcoming weeks. Attendees will be treated to free Slurpee drinks!
Stripes #9433: 511 East Cotter in Port Aransas on Thursday, August 23rd at 2pm
Stripes #2146: 2589 Highway 361 in Ingleside on Saturday, August 25th at 1pm
Stripes #2149: 235 Cleveland Blvd in Aransas Pass on Tuesday, September 4th at 2pm
Stripes will also participate in the city-wide celebration "Remember, Rebuild, Rejoice" ribbon cutting ceremony, hosted by Ingleside Chamber of Commerce on Saturday, August 25 at 10:00 am. This event will be held in the Ingleside Public Library, located at 2775 Waco St in Ingleside. Lunch will be sponsored by Stripes and Laredo Taco Company.
"We want to thank our team members, city partners, and most importantly, our loyal customers for their support. Together, we are Coastal Bend Strong!" Williams stated.
About Stripes® Convenience Stores
Stripes Convenience Stores operates more than 525 convenience stores in Texas and Louisiana. Food offerings are available in over 450 of its stores, primarily under the proprietary Laredo Taco Company® brand. Stripes is owned by 7Eleven, Inc. ("7-Eleven"), the largest chain in the convenience-retailing industry. Based in Irving, Texas, 7 Eleven operates, franchises and/or licenses more than 66,000 stores in 17 countries, including 11,600 in North America. For more information about Stripes Convenience Stores visit www.stripesstores.com