Stripes Stores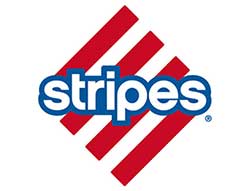 Stripes® Convenience Stores Announces Fourth Annual In-Store Campaign and Alliance with MD Anderson Children's Cancer Hospital
(Dallas, TX), Sept. 4, 2018 –Stripes® Convenience Stores is kicking off its annual "Stripes Stores Celebrates Tomorrows" fundraising campaign to help kids with cancer celebrate tomorrow. Benefitting The University of Texas MD Anderson Children's Cancer Hospital, the campaign coincides with Pediatric Cancer Awareness Month and runs Sept. 5-30. This is Stripes stores' fourth year to sponsor the popular fund-raising effort that supports programs spanning research and quality of life.

Stripes customers can choose to donate by purchasing a $1 paper pin-up while checking out at participating stores*. To show its appreciation of their donation, Stripes is giving participating customers coupons for a free 16-ounce Café de la Casa coffee and a buy-one-get-one-free original breakfast taco from Laredo Taco Company with their donation.

Since 2014, Stripes and its customers have raised more than $4 million for MD Anderson Children's Cancer Hospital. All of the funds raised in this year's campaign will help save children's lives by: providing safer, more effective treatments; keeping pediatric cancer patients in school during treatments; and funding quality-of-life programs like the recently developed Adolescent and Young Adult Oncology Center.

"Pediatric cancer is extremely underfunded, and by collaborating with MD Anderson and our customers, we can help make the lives of young patients and their families a little easier and offer hope through emerging treatments," said Greg Kirian, Stripes Stores director of marketing. "Stripes Stores Celebrates Tomorrows was MD Anderson's first instore, paper pin-up campaign, and we are grateful to our customers who have shown incredible generosity in past years. We hope our customers will continue supporting this effort to help children with cancer."

"With Stripes' continued support and the strength and resilience of our patients and their families, I am confident cancer doesn't stand a chance," said Richard Gorlick, M.D., division head and department chair, MD Anderson Children's Cancer Hospital. "Cancer is the No. 1 one cause of death from disease in children, and currently only 3 percent of funding goes into pediatric cancer research. Stripes' campaign will help fill a large gap of what's needed to treat young patients."
* excluding West Texas stores

About Stripes Convenience Stores
Stripes Convenience Stores operates more than 525 convenience stores in Texas and Louisiana. Food offerings are available in over 450 of its stores, primarily under the proprietary Laredo Taco Company™ brand. Stripes is owned by 7-Eleven, Inc. ("7-Eleven"), the largest chain in the convenience-retailing industry. Based in Irving, Texas, 7-Eleven operates, franchises and/or licenses more than 66,000 stores in 17 countries, including 11,600 in North America. For more information about Stripes Convenience Stores visit www.stripesstores.com