If you need to reach customer service, please call 1-800-255-0711 or use the form on our contact page.
Stripes Stores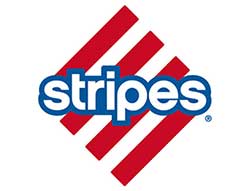 Stripes Stores Release New Dallas Cowboys Cups
(Dallas, TX) September 6, 2018 – Calling all thirsty Dallas Cowboys fans! Score a series of collectible Dallas Cowboys cups at participating Stripes® stores. Stripes customers are now able to purchase the first of seven Dallas Cowboys cup designs. A new design will be released every week during the season and available while supplies last. The souvenir cups are 32-ounces, dishwasher-safe and include the first fill free of any fountain beverage or Slurpee® drink.
"Football season is an exciting time of year, and all of us at Stripes are ready to cheer on Texas', and America's team through this collaboration with Stripes and the Dallas Cowboys," said Greg Kirian, Stripes Stores director of marketing. "As part of the 7-Eleven® family, Stripes stores are able to bring more variety, more in-store programs and more exclusive promotions to our customers. We share the same love of football as our customers, and know they are going to love these exclusive Dallas Cowboys cups as much as we do."
There are six individual player cups, with the seventh cup showcasing a team design to culminate the series. The players include: Demarcus Lawrence, Travis Frederick, Ezekiel Elliott, Cole Beasley, Sean Lee, and Dak Prescott. NFL Helmet straws will also be available at participating Stripes stores,* while supplies last.
Customers will also see in-store promotions featuring Dallas Cowboys quaterback Dak Prescott.
"We're bringing back our famous 'El Campeon,' also known as 'the Champ – Taco' as a limited-time offer. Who better to feature on for 'The Champ Taco' campaign than Dak Prescott! We are running a two for $3 El Campeon offer all day so our taco fans can feed their whole team," Kirian said.
'El Campeon' taco is filled with egg, chorizo, potato, bean and cheese and is available at Laredo Taco Company™ only at Stripes stores. Kitchen hours vary by location, and the two-for-$3 offer is valid at participating locations.
Customers are encouraged to visit stripesstores.com and the Stripes Stores Facebook page for additional offers and a chance to win prizes.
*excluding West Texas and Houston locations
About Stripes Convenience Stores
Stripes Convenience Stores operates more than 525 convenience stores in Texas and Louisiana. Food offerings are available in over 450 of its stores, primarily under the proprietary Laredo Taco Company® brand. Stripes is owned by 7-Eleven, Inc. ("7-Eleven"), the largest chain in the convenience-retailing industry. Based in Irving, Texas, 7 Eleven operates, franchises and/or licenses more than 66,000 stores in 17 countries, including 11,800 in North America. For more information about Stripes Convenience Stores visit www.stripesstores.com
For more information about Stripes Convenience Stores visit www.stripesstores.com. Media Contact: Jessica Davila-Burnett, 361-290-3257