If you need to reach customer service, please call 1-800-255-0711 or use the form on our contact page.
Stripes Stores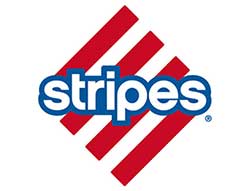 Stripes® Stores Launches Fifth Annual Campaign benefiting
MD Anderson Children's Cancer Hospital
More than $4.8 million raised for pediatric cancer programs to date
(Dallas, TX),
September 3, 2019 – For its fifth year, Stripes® Stores kicked off its annual "Stripes Stores Celebrates Tomorrows" fundraising campaign in more than 500 stores. Benefiting The University of Texas MD Anderson Cancer Center, the campaign commemorates Pediatric Cancer Awareness Month and supports patient programs, research and education efforts for children with cancer. "Stripes Stores Celebrates Tomorrows" will run in Stripes® stores across Texas from Sept. 3 to Oct. 7.
"Pediatric cancer is extremely underfunded, and by collaborating with MD Anderson Children's Cancer Hospital and our customers, we can help make a difference in the lives of pediatric cancer patients through emerging treatments, support camps and educational programs in the hospital" said Brad Williams, Senior Vice-President of 7-Eleven, Inc. (Stripes Stores). "We are committed to supporting programs that benefit the children and youth in the communities where we live and work."
Stripes customers can donate by purchasing a $1 Stripes Celebrates Tomorrows paper pin-up while checking out at participating stores. To show appreciation for customer donations, Stripes will give participating customers a $1 coupon for select bottled water, for their donation.
Since 2014, Stripes stores have rallied countless supporters from across Texas to raise more than $4.8 million for MD Anderson Children's Cancer Hospital. Funds this year will continue to support week-long summer camps that enable kids to be kids despite their cancer diagnosis. Additionally, funds will be used to support MD Anderson's Pediatric Education and Creative Arts Program and a new research project that will allow for the development of novel cellular and immunotherapy approaches for pediatric cancer including sarcomas and brain tumors.
"The incredible support that Stripes Stores inspires among countless customers across Texas is truly astounding," said Richard Gorlick, M.D., Division Head and Department Chair of Pediatrics at MD Anderson. "We are incredibly grateful for their continued support of our mission to end cancer. Our patients, both today and in the future, can hope for a better tomorrow, thanks to a large part of their efforts and generosity. "
Over the past five years, funds from the "Stripes Stores Celebrates Tomorrows" campaign have supported crucial initiatives including expanded research in the field of immunotherapy aimed at building a program to rapidly introduce innovative cellular and immune therapies for pediatric solid malignancies; pediatric sarcoma and brain tumor research.

About Stripes Convenience Stores
Stripes Convenience Stores operates more than 525 convenience stores in Texas and Louisiana. Food offerings are available in over 450 of its stores, primarily under the proprietary Laredo Taco Company™ brand. Stripes is owned by 7-Eleven, Inc. ("7-Eleven"), the largest chain in the convenience-retailing industry. Based in Irving, Texas, 7-Eleven operates, franchises and/or licenses more than 66,000 stores in 17 countries, including 11,600 in North America. For more information about Stripes Convenience Stores visit www.stripesstores.com