COVID-19 Get the latest updates here.
If you need to reach customer service, please call 1-800-255-0711 or use the form on our contact page.
Stripes Stores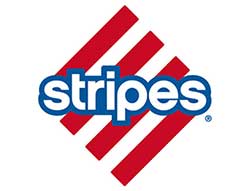 Stripes® Stores lanza la quinta campaña anual beneficiando a
MD Anderson Children's Cancer Hospital
Más de $4.8 millones recaudados para programas de cáncer pediátrico hasta la fecha
(Dallas, Texas) 3 de septiembre del 2019 – Por quinto año, Stripes® Stores inició su campaña recaudatoria anual de "Stripes Stores Celebrates Tomorrows" en más de 500 tiendas. Para beneficiar a la Universidad de Texas MD Anderson Cancer Center, la campaña conmemorará el "Mes del concientización del cáncer infantil" y apoyará los programas de pacientes, estudios y educación para niños con cáncer. "Stripes Stores Celebrates Tomorrows" se llevará a cabo en las tiendas Stripes® en todo Texas desde el 3 de septiembre hasta el 7 de octubre.
"El cáncer pediátrico es extremadamente poco financiado y, al colaborar con "MD Anderson Children's Cancer Hospital" y con nuestros clientes, podremos ayudar a marcar la diferencia en la vida de los pacientes con cáncer pediátrico mediante tratamientos emergentes, campamentos de apoyo y programas educativos en el hospital", dijo Brad Williams, vicepresidente senior de 7-Eleven, Inc. (Stripes Stores). "Estamos comprometidos en apoyar programas que beneficien a los niños y jóvenes en las comunidades en donde vivimos y trabajamos".
Los clientes de Stripes pueden donar comprando un "pin-up" de papel de "Stripes Celebrates Tomorrows" de $1 mientras se pague en tiendas participantes. Stripes dará a los clientes que participan un cupón de $1 para ciertas aguas embotelladas por su donación para mostrar su agradecimiento por las donaciones.
Desde el 2014, las tiendas Stripes han reunido innumerables seguidores en todo Texas para recaudar más de $4.8 millones para "MD Anderson Children's Cancer Hospital". Los fondos de este año continuarán apoyando los campamentos de verano de una semana de longitud que permiten que los niños sigan siendo niños a pesar de su diagnóstico de cáncer. Además, los fondos se utilizarán para apoyar el "Programa de educación creativa y pediátrica de MD Anderson" y para el desarrollo de un nuevo proyecto de estudio que permitirá el adelanto de nuevas funciones celulares y de la inmunoterapia para el cáncer pediátrico, incluyendo sarcomas y tumores cerebrales.
"El increíble apoyo que Stripes Stores inspira entre innumerables clientes en todo Texas es realmente asombroso", dijo Richard Gorlick, M.D., jefe de división y presidente del departamento de Pediatría en el MD Anderson. "Estamos increíblemente agradecidos por su apoyo continuo a nuestra misión de acabar con el cáncer. Nuestros pacientes, tanto hoy como en el futuro, podrán esperar un mejor mañana, gracias a su gran esfuerzos y generosidad".
En los últimos cinco años, los fondos de la campaña "Stripes Stores Celebrates Tomorrows" han apoyado iniciativas importantes que incluyen amplios estudios de la inmunoterapia para la construcción de un programa que introducirá innovadoras terapias celulares e inmunes para las neoplasias malignas sólidas pediátricas; investigaciones de sarcoma pediátrico y estudios de tumores cerebrales.