If you need to reach customer service, please call 1-800-255-0711 or use the form on our contact page.
Stripes Stores
Happy FREE Slurpee® Day!
Stripes® Stores Celebrate July 11 with FREE Small Slurpee® Drinks from
11 a.m. to 7 p.m.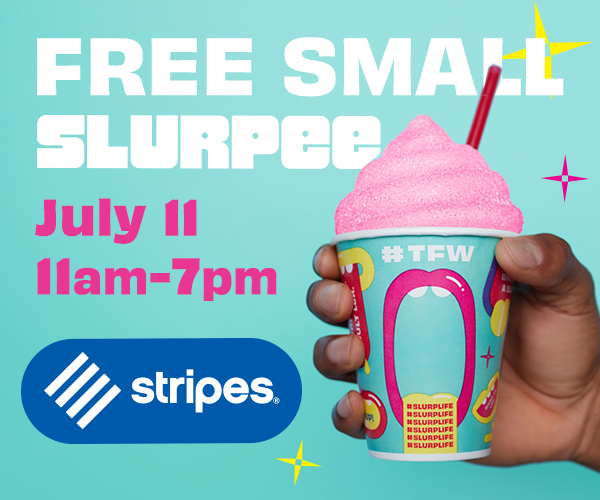 (IRVING, TEXAS) Monday, July 8, 2019 – FREE Slurpee Day is July 11, and participating Stripes® stores* will celebrate with FREE small Slurpee® drinks from 11 a.m. to 7 p.m. local time, while supplies last. No purchase is necessary to enjoy the one-per-customer free frozen drink.
Slurpee drinks were introduced to Stripes customers last year after the South Texas convenience store chain was acquired by 7-Eleven, Inc., home of the iconic frozen drink, on January 23, 2018.
Each year, 7-Eleven gives away millions of Slurpee drinks on 7-Eleven Day (July 11 aka 7/11) to celebrate its birthday. This year marks world's largest convenience retailer's 92nd birthday. 7-Eleven founded the convenience store concept in 1927, when an ice dock employee in Dallas began selling milk, bread and eggs to customers as a convenience when traditional grocery stores were closed.
Fanta Blueberry Lemonade is the featured Slurpee drink flavor at participating Stripes stores. But hurry! This limited-time flavor is available until Aug. 2, or while supplies last.
*Not Available in West Texas
About Stripes® Convenience Stores
Stripes Convenience Stores operates more than 525 convenience stores in Texas and Louisiana. Food offerings are available in more than 450 of its stores, primarily under the proprietary Laredo Taco Company® brand. Stripes is owned by 7-Eleven, Inc., the world's largest chain in the convenience-retailing industry. Based in Irving, Texas, 7-Eleven operates, franchises and/or licenses more than 68,000 stores in 17 countries, including 11,800 in North America. For more information visit: www.stripesstores.com Media Contact: Jessica Davila-Burnett 361-290-3257.