COVID-19 Get the latest updates here.
The current Stripes customer service number (1-866-707-7727) is down. If you need to reach customer service, please call 1-800-255-0711 or get in touch with us using the form on this site's contact page.
Stripes Stores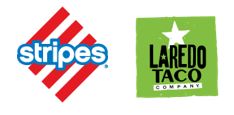 We're Here for You.
We know you rely on Stripes® stores to be open when you need us. As we all navigate through the changes that have come as a result of the COVID-19 (coronavirus) pandemic, you can continue to count on us.
Whether you're sheltering in place, working from home, or putting in long hours in an essential role, we want you to know that your neighborhood Stripes stores are doing everything they can to remain open for you. Your safety, along with the safety of our employees remains our top priority. We continue to enhance our health and safety standards and have made temporary business changes in stores to make sure you can get what you need in a safe, clean environment.
In the coming days we will be adding extra measures that support up-to-date safety recommendations, including installing sneeze guards at sales counters and visual floor markers in checkout lines that reinforce social distancing. We ask that you help us practice social distancing in our stores, follow our recommended purchasing limits and practice kindness and patience with our hardworking employees.
If you prefer to shop from home, order from Postmates and Favor to purchase grocery staples like milk and bread, over-the-counter medicine, household goods, a range of craveable food and beverage options like tacos and family meals from Laredo Taco Company®, and more to your door.
It's always been our mission to make sure our communities have the essentials and comforts they need. That mission is no different during this challenging time, and we will continue to do everything we can to serve you. Thank you for your continued support and trust in Stripes and Laredo Taco Company. We are all in this together, and we will get through this together.
Sincerely,
Brad Williams
Senior Vice-President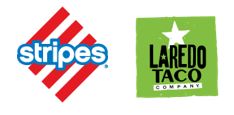 Estamos aquí para ti.
Sabemos que confía que las tiendas Stripes® estará abierto cuando nos necesite. Mientras todos navegamos a través de los cambios que han surgido como resultado de la pandemia de COVID-19 (coronavirus), puede seguir contando con nosotros.
Ya sea que se esté refugiando en lugar, trabajando desde su casa o dedicando largas horas en un trabajo esencial, queremos que sepa que las tiendas Stripes de su comunidad están haciendo todo lo posible para permanecer abiertas para usted. Su seguridad, junto con la seguridad de nuestros empleados, sigue siendo nuestra prioridad principal. Continuamos mejorando nuestros estándares de salud y seguridad y hemos hecho cambios temporales en las tiendas para asegurarnos de que pueda obtener lo que necesita en un habiente seguro y limpio.
En los próximos días, agregaremos medidas adicionales que respaldan las recomendaciones de seguridad mas recientes, incluyendo la instalación de protectores de estornudos en los mostradores de ventas y marcadores visuales en el piso en las líneas de pago que refuerzan el distanciamiento social. Le pedimos que nos ayude a practicar el distanciamiento social en nuestras tiendas, siga nuestros limites de compra recomendados y continúe la amabilidad y la paciencia con nuestros empleados trabajadores.
Si prefiere comprar desde casa, ordene de Postmates o Favor para comprar alimentos básicos como leche y pan, medicamentos de venta libre, artículos para el hogar, o también una variedad de opciones de bebidas y alimentos como tacos y comidas familiares de Laredo Taco Company® y mas a su puerta.
Siempre ha sido nuestra misión asegurarnos de que nuestras comunidades tengan los elementos esenciales y las comodidades que necesitan. Esa misión no es diferente durante estos momentos difíciles, y continuaremos haciendo todo lo posible para servirle. Gracias por su continuo apoyo y confianza en Stripes y Laredo Taco Company. Todos estamos juntos en esto, y lo superaremos juntos.
Sinceramente,
Brad Williams
Senior Vice President