COVID-19 Get the latest updates here.
If you need to reach customer service, please call 1-800-255-0711 or use the form on our contact page.
Stripes Stores
Chicken Quesadillas
A QUESADILLA walks into a bar and orders a drink. The bartender says, "Sorry, we don't serve food here." We know... that joke was pretty cheesy. Do you know what cheesier than our jokes? Introducing our NEW Cheesy Quesadillas from Laredo Taco Company®! Our Quesadillas are made with our famous, fresh handmade tortillas, stuffed with delicious Mexican cheeses and your choice of savory beef or chicken fajitas grilled to perfection, just for you.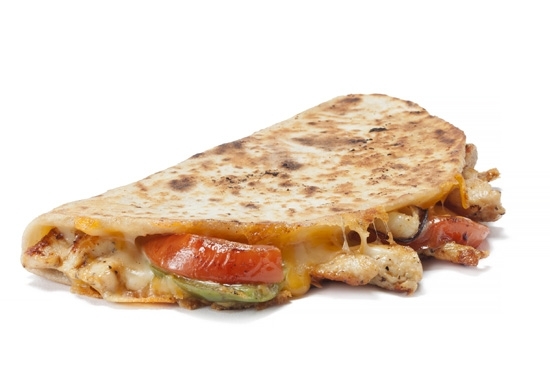 Nutrition Information

| | |
| --- | --- |
| Weight(g): | 247 |
| Calories From Fat: | 360 |
| Trans Fat (g): | 0 |
| Saturated Fat (g): | 22 |
Nutrition Information

| | |
| --- | --- |
| Cholesterol (mg): | 120 |
| Sodium(mg): | 1340 |
| Dietary Fiber (g): | 7 |
| Sugars (g): | 2 |