Stripes Stores
FOR IMMEDIATE RELEASE
SUNOCO LP (STRIPES STORES AND APLUS STORES) TO RAISE FUNDS FOR CHILDREN'S MIRACLE NETWORK HOSPITALS®
Campaign Will Provide Vital Funds for Pediatric Programs Through an In-store Miracle Balloon Fundraising Campaign

SALT LAKE CITY, UT and CORPUS CHRISTI, TX (April 5, 2016) — Now through May 3, Stripes® Convenience Stores and APlus® Stores will be asking customers to "Put Their Money Where The Miracles Are" and purchase a $1 Miracle Balloon to raise funds for Children's Miracle Network Hospitals (CMN Hospitals).
Stripes and APlus, operated by Sunoco LP, have partnered with CMN Hospitals since 2000, raising more than $9.5 million for sick and injured kids. In 2015, Sunoco's team members raised over $1.7 million during their spring campaign.
"Sunoco LP is committed to improving the communities where we live and work," said Cynthia Archer, Executive Vice President and Chief Marketing Officer for Sunoco LP. "We are proud of our customers and our store teams who, time after time, show their generous spirit by helping our local children's hospitals."
Funds raised through the in-store campaigns are unrestricted, meaning the hospitals can use the funds where they are needed most. Donations raised during the campaign have a direct impact on the millions of kids treated at local CMN Hospitals. These funds help kids like Miracle Child, Leo, who was born premature at 32 weeks. Doctors gave Leo a zero percent chance of survival. However, because of Leo's determination and the well-equipped doctors working with the latest neonatal technology and equipment, Leo went home from his Children's Miracle Network Hospital after 70 days in the neonatal intensive care unit.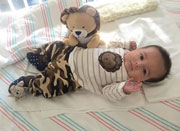 "There are 10 million kids like Leo who enter a CMN Hospital every year and rely on the vital funds raised through Sunoco's s annual in-store fundraising campaigns," said John Lauck, president and CEO of Children's Miracle Network Hospitals. "It's with the support of Stripes and APlus team members and their customers that miracles are able to happen every day at children's hospitals across the country. Funds raised through Stripes Stores and APlus Stores in the past 16 years have made an enormous impact on the lives of sick and injured kids treated at Children's Miracle Network Hospitals."
Funds raised from the CMNH partnership with Sunoco will stay in the local communities. These donations help make miracles happen by funding vital medical care, equipment and therapy programs that save and improve the lives of more than 10 million sick and injured children a year.
About Sunoco LP
Sunoco LP (NYSE: SUN) is a master limited partnership that operates approximately 1,340 convenience stores (including APlus, Stripes, Aloha Island Mart and Tigermarket brands) and retail fuel sites and distributes motor fuel to convenience stores, independent dealers, commercial customers and distributors located in 30 states at approximately 6,800 sites. SUN's parent -- Energy Transfer Equity, L.P. (NYSE: ETE) -- owns SUN's general partner and incentive distribution rights. For more information, visit the Sunoco LP website at www.SunocoLP.com.
About Children's Miracle Network Hospitals
Children's Miracle Network Hospitals® raises funds and awareness for 170 member hospitals that provide 32 million treatments each year to kids across the U.S. and Canada. Donations stay local to fund critical treatments and healthcare services, pediatric medical equipment and charitable care. Since 1983, Children's Miracle Network Hospitals has raised more than $5 billion, most of it $1 at a time through the charity's Miracle Balloon icon. Its various fundraising partners and programs support the nonprofit's mission to save and improve the lives of as many children as possible. Find out why children's hospitals need community support, and learn about your member hospital, at CMNHospitals.org and facebook.com/CMNHospitals.
Contact:
Jeff Shields
jeff.shields@sunoco.com
(215) 977-6056
Contact:
Brooke Johnson
bjohnson@cmnhospitals.org
801-214-7511
###