Stripes Stores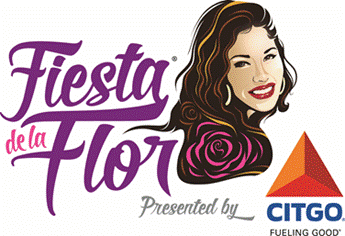 Stripes Stores and Fiesta de la Flor Presented by CITGO Announce Selena Commemorative Cups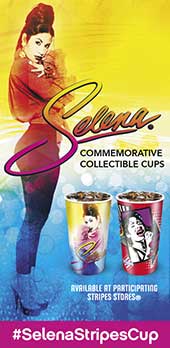 Corpus Christi, TX – February 20, 2017 – Stripes Convenience Stores® and Fiesta de la Flor presented by CITGO are proud to announce the release of two Selena commemorative cups that will be sold at participating Stripes Stores.
Selena fans won't want to miss the opportunity to add these two commemorative cups to their Selena collection. Stripes, the La Plaza Food Truck Court sponsor for Fiesta de la Flor, worked with Suzette Quintanilla to create the two designs for the commemorative cups featuring the Tejano music superstar.
The cups will be sold for $2.99 at participating Stripes Stores in Corpus Christi, the Rio Grande Valley, Laredo, Houston and select stores in Midland and Odessa. Portions of the cup sales will go to the Selena Foundation.
"Our guests are at the center of all that we do and we know that honoring Selena's legacy is incredibly meaningful to her fans. We are honored to build on the success of Fiesta de la Flor in this special way. These commemorative cups are a unique opportunity to show our support and starting March 1 our guests can pick them up at our participating stores," stated Eduardo Pereda, VP of Marketing Convenience Brands for Sunoco LP.
The commemorative cups will be sold at Stripes Stores beginning March 1 through April 4 or while supplies last.
Stripes will feature two of its Laredo Taco Company food trucks at this year's Fiesta de la Flor presented by CITGO on March 24-25, 2017. Fiesta de la Flor presented by CITGO is a two-day festival celebrating the life and legacy of Selena. The festival is produced by the Corpus Christi Convention and Visitors Bureau with the financial help from numerous sponsors. Tickets for the festival can be purchased at Ticketfly.com.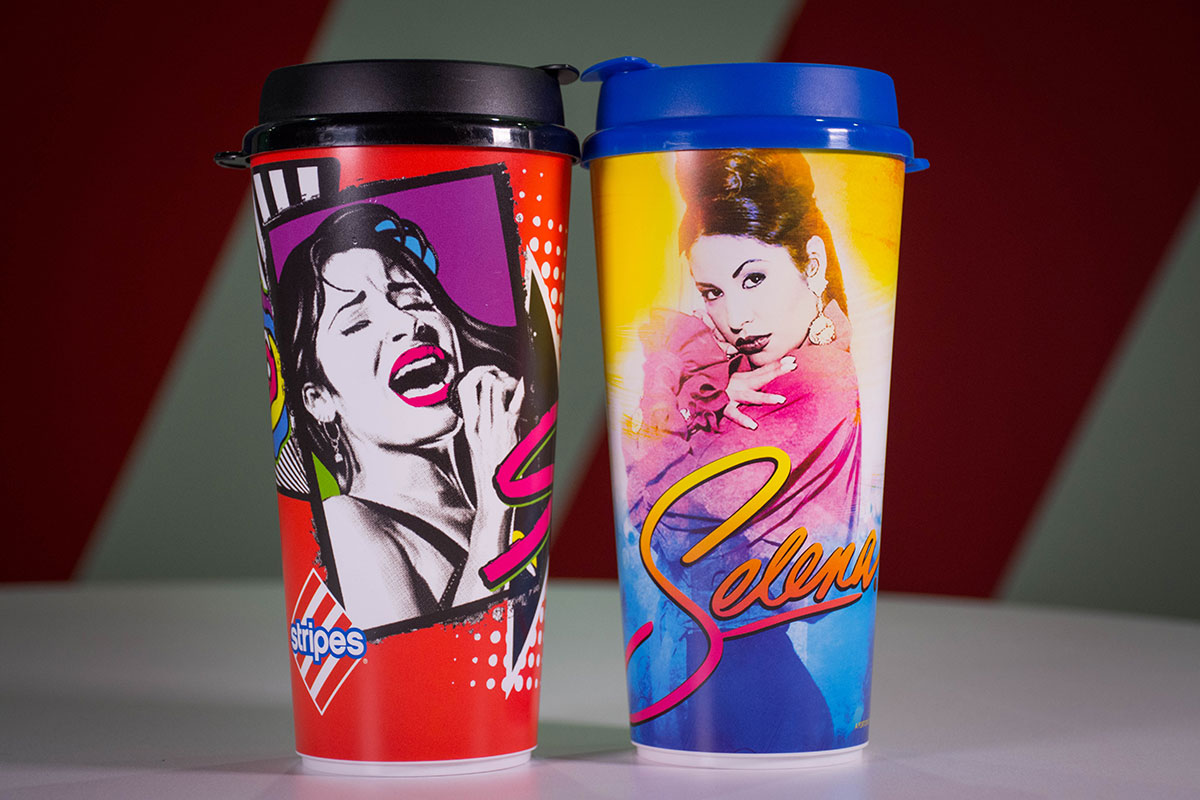 ###
The Corpus Christi Convention and Visitors Bureau's mission is "to drive overnight visitors to the Corpus Christi Area". For more information about the Corpus Christi Convention and Visitors Bureau or to plan your next trip to Corpus Christi, visit www.VisitCorpusChristiTX.org or call 1-800-766-6232.
About Stripes® Convenience Stores
Stripes Convenience Stores operates more than 700 convenience stores in Texas, New Mexico, Oklahoma and Louisiana. Restaurant service is available in over 450 of its stores, primarily under the proprietary Laredo Taco Company® brand. For more information about Stripes® Convenience Stores visit www.stripesstores.com. Stripes is owned by Sunoco LP (NYSE: SUN), a master limited partnership that operates approximately 1,300 retail fuel sites and convenience stores (including APlus, Stripes, Aloha Island Mart and brands) and distributes motor fuel to stores, independent dealers, commercial customers and distributors located in 30 states at approximately 6,900 sites. For more information, visit the Sunoco LP website at www.SunocoLP.com.